Converting flavours, 
textures and colours into knowledge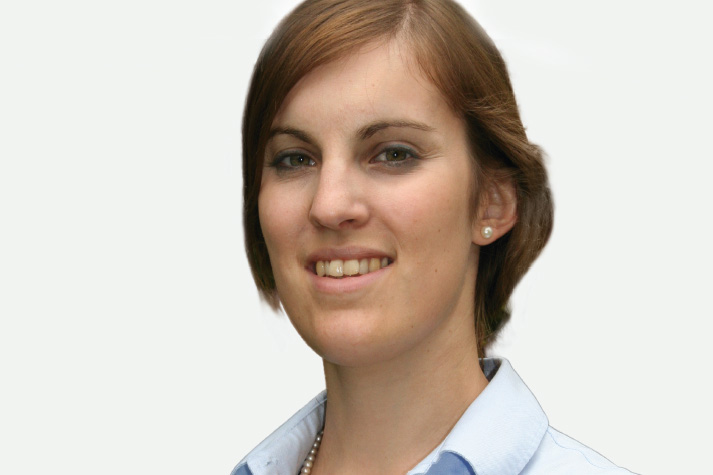 The taste of food is something everybody has an opinion about – but how to translate these opinions into useful, better ?knowledge during pork production? This is the task of a director of meat science – JSR Genetics appointed Caroline Mitchell to this role.
By Roger Abbott
Caroline Mitchell's own favourite piece of pork? A hot ham joint! "This is because growing up it was always something we had hot on Christmas eve, on sandwiches for Christmas day dinner time if we were hungry and didn't want any more turkey and then would finish it off cold with salad and leftovers on Boxing Day. We always have big family Christmases and as a result it reminds me of family, friends and holidays. The Gammon Joints were always a treat or for an occasion and I love the meat cold too."
Normally this might not be a very relevant question in an interview, but it is allowed when the person interviewed is the new director of meat science at swine breeding company JSR Genetics. Caroline Mitchell, 29, even got there after initially only a week's work experience, which resulted in a master's degree in meat science and technology.
Mitchell, daughter of British beef, dairy and arable farmers, is the youngest person ever to be appointed as a director on the company's board. Modestly, she says that she originally wanted to be a veterinary surgeon, but decided to study applied biology at the University of Nottingham instead.
"After graduating I applied for some work experience at JSR Genetics in 2006 so I could learn about different industries and decide what I wanted to do. They agreed to take me on for a week in their AI stud, but then that was extended to another week and I ended up staying on for a whole year, during which time I established the AI protocols for the company, since BPEX introduced the industry standards during my time there."
Partnership
JSR were obviously impressed with her work, because they then decided to sponsor her, in partnership with the British Pig Executive (BPEX), to do a master's degree in Meat Science and Technology at Bristol University – and it seems that signalled the end of her plans to become a veterinary surgeon.
"For the next three years I was studying part-time at the renowned animal science department in Bristol and working at JSR Genetics in Southburn, East Yorkshire, variously as maternity cover in the Research and Genetics department and developing the new role of meat scientist for the company, which has always valued this subject," she explains.
"I really liked the pig industry and decided it was for me. It is challenging and interesting, with a community-type ethos where everybody seems to know everybody else – and I am sure that meat science and the eating quality of meat has a major role to play in the future success of this sector.
"I believe it will help us bring everybody – from producer and processor to marketer, retailer and consumer – into the pig production circle so we can all work together to improve eating quality and develop new products that consumers want to eat and will also be prepared to pay a decent price for."
Food Quality Centre
Mitchell has already made a start on this ambition at the company's headquarters where she has helped establish a Food Quality Centre. This includes a professionally trained taste panel that is employed to evaluate all JSR's own pork products. They also provide other companies with an independent test-bed for their products and help educate the public when it comes to preparing and cooking pork.
Members of the panel have all been specially selected for their ability to assess flavours, scents, textures and colours in meat and the centre, which is equipped with all the latest meat quality testing equipment, is available to hire. It also regularly conducts assessments on other meats such as lamb, beef and chicken.
Any results will be directly communicated to the supply chain, she says. "I work within the Research and Genetics Department so I am in continuous dialogue with the team, as well as having regular catch up meetings with Dr Grant Walling, JSR's director of science and technology. In addition as part of my new role, I am now directly involved with the Operational Board Meetings amongst other meetings where the decisions about the company goals and direction are made, thereby allowing me to have direct input into these decisions. How knowledge is put into practice is dependent on where in the supply chain the knowledge is relevant."
UK focus
The focus on the eating quality and the taste of products may be a new idea to many, especially in her country of focus UK, where the meat science sector is on the decline due to the lack of funding, but Mitchell says it is seen as a priority issue in several other countries where the national pig industries are tweaking management systems, experimenting with stock densities and evaluating different rations to improve the eating quality of pig meat and the efficiency of the supply chain.
"In Russia and Korea, as well as the US and Australia, for example, producers, processors and retailers are all very keen to learn how to optimise meat quality and taste and to do more to bring the consumer into the production circle.
Every stage in the supply chain has an effect on the meat quality, so we need to develop a multi-pronged approach to ensure success.
"We used to be leading the field and breaking new ground in this 'whole circle' approach in the UK, but now I don't think there is anyone else doing this job at an industry level here anymore. Luckily, I have a huge international resource base that I can consult when I need to, especially within the International Congress of Meat Science and Technology, where top meat scientists from the US, Denmark, South Africa and Australia share the knowledge they have gained from the R&D in their countries where this subject is on top of the agenda. And it's not just pork; these researchers and scientists are working on several other meat protein sources as well, including exotic meats and fish."
Cooking
She admits they still have a lot of ground to cover, because even the best genetics can taste awful if the product is not cooked properly, or there is a slip-up somewhere along the production line, which stretches all the way from the farm to the fork, as they regularly say at JSR.
"We really need to increase awareness about meat quality in the supply chain and reveal the effect anybody and everybody in that chain can have on the final eating quality of the products we produce," she says.
As the new director of meat science, Mitchell has a great opportunity to help this happen globally as well as nationally, because JSR has established partnerships and production units in more than 30 countries around the globe across Europe, Asia and Africa.
PP
BIOGRAPHY
Caroline Mitchell, 29, was appointed as director of meat science at JSR Genetics in May 2014 and is an elected member of the National Pig Association's Allied Industries Group (AIG) committee, giving her an in-depth knowledge of all aspects of the pig genetics industry. She joined JSR in May 2006 as a laboratory technician, after completing her BSc (Hons) in Applied Biology at the University of Nottingham. After working within the AI team for a year, where she wrote the protocols on running and managing the studs to the industry standards, she moved to the Research and Genetics department to strengthen the team's knowledge in meat science. For the JSR Food Quality Centre, Caroline Mitchell has trained a screened panel of sensory analysts, who specialise in meat assessment, as well as other food groups such as peas, potatoes, cereals and dairy products.