Chinese say they cloned castrated pig that survived earthquake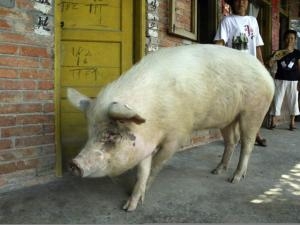 Chinese scientists have cloned a pig which was hailed a hero in 2008 after surviving more than a month under earthquake rubble, news agency AFP reports, on the basis of a Hong Kong newspaper.
Six piglets have been produced with DNA identical to Zhu Jiangqiang, or 'Strong-Willed Pig', the Hong Kong-based South China Morning Post says.
The cloning project was a success even though Zhu is castrated and is five years old (60 years in human age).
Chewing charcoal
Zhu survived the 8.0 magnitude quake that rocked Sichuan province in 2008. The 150 kg pig is thought to have survived in the ruins of his sty by chewing charcoal and drinking rainwater, the AFP news agency reports.
He is said to have suffered severe trauma from being buried under rubble for 36 days. "The wonderful pig surprised us again," Du Yutao, the head of the cloning project, told the newspaper.
The newspaper says the piglets bear a striking resemblance to their dad – with a birthmark between their eyes. They are likely to be paired off and sent to a museum and a genetic institute, the paper reports.
Related websites:
• AFP
• South China Morning Post