China – heading for food self-sufficiency and more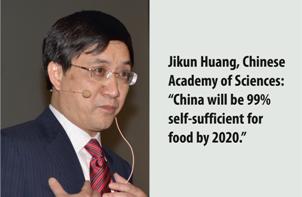 How will China cope with its growing population and growing demand for foods? Is the country able to feed its projected 1.34 billion inhabitants by 2050? Clearly, yes, says Jikun Huang, of the Chinese Academy of Sciences. By 2020 the country will be 99% self-sufficient.
The story has been well-known for some time. When it comes to food security in China, many have pointed to rapid economic growth, the rising food demand, increasing imports of feedstuffs like soybeans. So often, the question is: Who will feed China?
A question for Jikun Huang, from the Center for Chinese Agricultural Policy at the Chinese Academy of Sciences. He addressed the audience at the 'Feeding the World' summit, organised by the Economist Group and sponsored by DSM, in Geneva, Switzerland, on 8 February. His answer can be summarised as: China will take care of itself – and others too. Huang pointed to the time frame between 1992 and 2010, stating that in 17 years, China was a net food exporter. It is only in the last three years that China had to import. He also mentioned the fact that both national and household food security has significantly improved in this time. Huang continued by explaining how China had managed to achieve this. The annual growth rate of China's agriculture has been 4.4 times the rate of the population growth in the last 30 years. To support this, he showed figures of a staggering grain production growth (74%) between 1978 and 2009; a whopping oil crop production growth by 505% in that same time frame. Similarly, meat production has grown extremely strong over the last 30 years, be it for pork, poultry, beef or mutton.
Two developments in Beijing are at the basis of these achievements, Huang explained – a combination of strong investments in agriculture and a national policy reform.
Investments
Between 1984 and 1997, the Chinese central government invested roughly between 50-100 billion yuan (€6-12 billion) annually in the agricultural sector. As from 1998, the budget was increased virtually every year to reach 450 billion yuan (€56 billion) in 2008 with more growth projected.
Part of the investments went into stepping up the amount of irrigated land. About 50% of total cultivated land in China is now used for irrigation, a total of almost 60 million ha. In comparison, by 1950, this was approximately 15 million ha.
The key element of future investments (e.g. for 2012) will be Research & Development-related, Huang said.
Policy changes
Water always used to be a key element in the agricultural investments and in the future, water management will continue to receive a lot of attention. Huang said that in the next ten years, about 4,000 billion yuan (€495 billion) will be invested in water conservancy. This eventually has to lead to improvements in water use in both agricultural and non-agricultural sectors.
The rising food import pressure is also a theme the Chinese government is working on, Huang said. Policy responses include a target of 95% of grain self-sufficiency and nearly 100% food self-sufficiency. The investments in agriculture in China were mentioned, but this also includes investments in Africa. All these changes ought to lead to a reasonably positive outlook in the longer term with regard to imports and exports. A positive balance for rice is achievable in the longer term, Huang said. For wheat and coarse grains, however, China may be dependent on imports in a projection until 2020.
For other agriculture and food products, a slightly positive balance for pork and poultry products is anticipated – contrary to projections for beef and mutton. As for maize, the country is able to meet domestic demand until 2025 even with currently available technologies – and with foreign genetically modified techniques, opportunities can only grow.
Huang closed off stating that China's political commitment to invest in agriculture and policy reforms are crucial to agricultural development and food security. He added that China will continue to heavily invest in technology, water and other rural infrastructure to increase its overall food self-sufficiency.
"While China is expected to increase import of land intensive products (e.g., feeds, cotton, edible crops, sugar, dairy, etc); China will also continue to be a major exporter of labour and capital intensive products (e.g., vegetable, fruits, fishery and processed foods) and contribute to global food security. And China is also ready to help other food deficit regions such as Africa to increase their food production capacity."