China expects to see record pork imports this year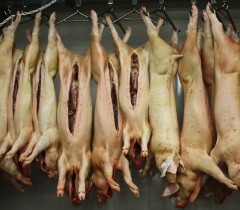 Analysts have said that China's pork imports are likely to hit a record this year, but the surge will have limited influence on surging prices. This was reported by China Daily.
The newspaper quoted Ma Chuang, deputy secretary-general of the China Animal Agricultural Association (CAAA), saying: "China imported about 400,000 tons of pork and pork offal in the first five months of this year, up 43% year-on-year, and imports will probably hit a record 1 million tons this year." 
An earlier report from the Rabobank Group (the Netherlands) indicated that the potential gap between pork supply and demand would be between 2 and 2.5 million tons in 2012. The import volume of pork and pork offal will be 1.1 to 1.4 million tons this year, which will be between 25% and 60% higher than last year's figure. 
Pork prices
China's pork prices, a key driver of inflation, rose 0.7% in the week ending September 11 from the previous week, hitting a new record, data from the Ministry of Commerce have showed. It was the fifth consecutive weekly rise in pork prices. 
An analyst commented that the imports of pork and pork offal will not have an actual influence on surging domestic prices as imports only account for a very small share of China's pork consumption. 
The price of pork will continue to be high in the foreseeable future owing to the rising cost of labour, corn and feed and the risks inherent in the industry, such as mortality. Increasing supplies in the second quarter of next year may result in a decline of prices.
Central government
CAAA's Ma said the Chinese government will not rely on imports to regulate the price surge. He expects pork prices to have a 'soft landing' as the market regulates itself and 'steadiness and sustainability are key factors for livestock production'. 
China's imports of pork and pork offal reached their peak in 2008 with a volume of 910,000 tons. In 2010, the country imported 900,000 tons of pork, with Denmark being the major supplier, followed by the USA, Canada and France. 
About 700,000 tons of the imports comprised offal including pigs' heads, knuckles and haslet. "In the first five months of this year, more than half of China's pork imports came from the US," Ma said. 
Imports from the USA
The cumulative volume of Chinese imports the USA from was more than 91,000 tons during the first seven months of this year, a five-fold increase from 14,900 tons in the same period last year, according to United States Department of Agriculture (USDA) figures. China is the fifth-largest market for US pork exports. 
"China's surging demand for pork and pork offal implies an optimal export scenario because pork offal is not eaten in Western countries and is not allowed to be processed into animal feed," said Ma, who suggested European and US pork producers should supply pork to their local markets and export offal to Asian countries. Moreover, farmers overseas can profit from pork offal exports and save money on disposing of the surplus, he added.
Related websites:
• Rabobank Group
• United States Department of Agriculture (USDA)