Cherkizovo to substantially increase pork production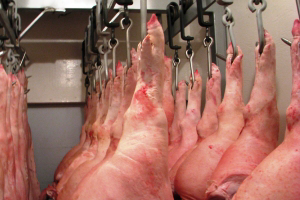 Cherkizovo Group plans to substantially increase the production of pork and poultry in Voronezh Region.
The company will invest nearly 4 billion rubles in business development. Chairman of the Board of Directors of Cherkizovo Group Igor Babaev made this announcement during a meeting with the Governor of Voronezh Region Alexei Gordeev.
Cherkizovo Group, Russia's largest meat and fodder manufacturer, has been present in Voronezh Region for eight years. During this time, the company has invested nearly 10 billion rubles in the regional economy (including the acquisition of Lisko Broiler in 2014). Activities in Voronezh Region include poultry and commercial pork production, swine nucleus units, grain farming and fodder manufacturing. In 2013 alone, Cherkizovo produced 14,000 tonnes of pork, 95,000 tonnes of poultry and harvested nearly 103,000 tonnes of crops on 27,000 ha in the region.
Cherkizovo plans to build in the Voronezh Region seven feedlots with a total capacity of more than 35,000 tonnes of marketable pork per year in Voronezh Region in order to expand pork production. Implementing the project will enable Cherkizovo Group to triple pork output at regional facilities to more than 50,000 tonnes live weight per year.
Cherkizovo is already building a feed mill with capacity of 375,000 tonnes per year in Semiluksky District. Commissioning of the new feed mill will cover the increasing feed requirements of the Group's facilities.
"By investing 4 billion rubles, we will substantially increase production levels," Babaev said. "This prospect means further development, more jobs and higher wages, and will help ensure the country's food security." During the meeting with the governor, Babaev also announced that the company would allocate 1 million rubles to Lisko Municipal Area as charitable assistance. The money will be directed to the needs of the Lisko home for the elderly and disabled.
Gordeev said that the regional government would make every effort to increase the region's investment attractiveness. He thanked Babaev for long-term cooperation and awarded him a badge of honour – "Gratitude from the Land of Voronezh".