Candy co-product can replace lactose for piglets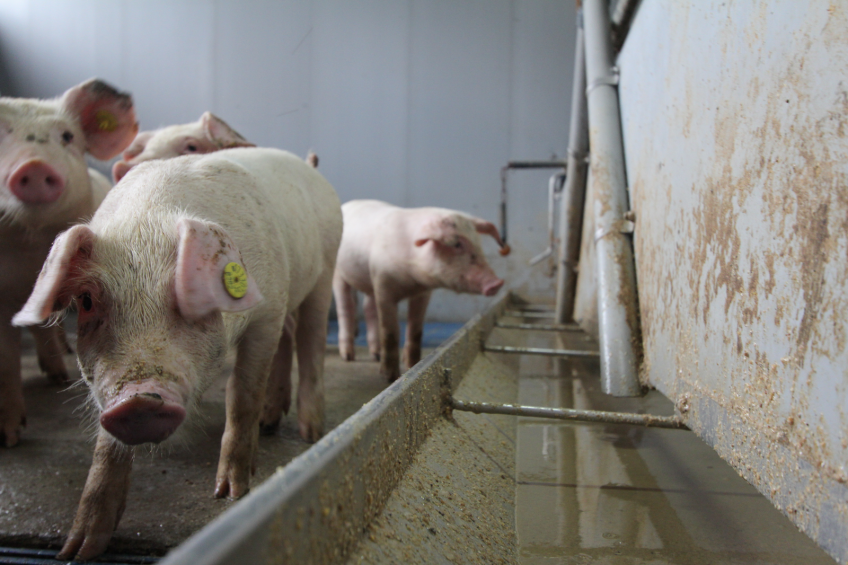 A candy co-product could be an economical alternative to partly replace the use of lactose in nursery pigs, American scientists write.
The results have now been published in the scientific journal Journal of Animal Science. Earlier, the outcomes were presented at the ADSA Midwest Branch/ASAS Midwestern Meeting.
The experiment investigated the effects of Chocolate Candy Feed, manufactured by International Ingredient Corporation, St Louis, MO, USA, which could be seen as an alternative carbohydrate source to dietary lactose, on growth performance and on health status of nursery pigs.
The scientists conclude that the "candy co-product can be used to replace up to 45% of dietary lactose for nursery pigs without negative effects on growth performance or health status."
Just-weaned piglet trial in North Carolina
The test was done at Smithfield Premium Genetics, located in Rose Hill, NC, United States. In total, 1,408 crossbred pigs of 21 days old and on average 7.1 kg body weight were involved were randomly assigned to 4 treatments (16 pens/treatment and 22 pigs/pen) in a randomised complete block design: 0, 15, 30, and 45% of lactose replaced by the candy co-product based on equal amounts of total sugars.
The experimental period was divided into 3 phases:
Phase I (1.8 kg diet/pig for roughly 11 days);
Phase II (6.8 kg diet/pig for about 17 days);
and Phase III (until 49 days after weaning).
Pigs received a common phase III diet. The levels of lactose, supplied by whey permeate (about 79.3% lactose), were 20, 8, and 0% in phase I, II, and III, respectively.
All experimental diets contained the same levels of essential amino acids and energy for each phase. Faecal scores were observed on day 5, 7, and 9 after weaning. Blood samples were taken at the end of phase I and II to measure blood urea nitrogen levels.
Outcomes of the study
The duration of phase I tended to linearly decrease with increasing the candy co-product. In phase I, the average daily feed intake (ADFI) increased with increasing the candy co-product whereas average daily gain (ADG) and feed conversion ratio (FCR) did not change.
In phase II, the duration and ADFI did not change whereas ADG linearly decreased with increasing the candy co-product. However, the FCR was not changed as the candy co-product increased.
During phase I and II together, the duration was linearly decreased as the candy co-product increased, whereas no difference in growth performance was observed.
No adverse effects of candy co-product
Overall, ADFI, ADG, and FCR were not affected by replacing whey permeate with the candy co-product in diets, indicating no adverse effects of the candy co-product as a carbohydrate substitute to lactose on growth performance of nursery pigs.
Blood urea nitrogen levels did not change in phase I but tended to linearly increase in phase II as the candy co-product increased. There were no differences in faecal scores and mortality as the candy co-product increased. However, increasing the candy coproduct tended to linearly decrease morbidity, which implies no adverse effects of a candy co-product replacement on health status of nursery pigs.
The scientific article was written by J.Y. Guo and S.W. Kim, North Carolina State University, Raleigh, NC, USA; and C.E. Phillips and M.T. Coffey, Murphy Brown LLC, Rose Hill, NC, USA.