Canadian Government's research investment will benefit swine producers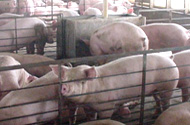 The Government of Canada is investing in an innovative project that will benefit Canadian swine producers and consumers.
The Honourable Jean-Pierre Blackburn, Minister of Veterans Affairs and Minister of State (Agriculture), announced that Coop fédérée will receive up to $80,000 to study and develop feeding recommendations to maximise sow milk production through gestation, ensuring optimal growth of suckling piglets.
"Our Government puts farmers first with investments in science and innovation," said Minister Blackburn. "This project will build a stronger swine industry to ensure that our farmers continue to produce healthy piglets."
The funding will go towards studying the effects and benefits of a multi-step feeding regime during gestation on mammary development and lactation performance. Milk production of sows is vital to producing healthy piglets, as heavier piglets are more vigorous and more resistant to disease. Developing and studying nutrition strategies will help improve lactation performance of sows. Researchers will make feeding recommendations that will assist producers in improving performance without creating additional feed costs.
"We welcome the news with enthusiasm," said Mr. Yan Martel-Kennes, Agr., Manager of research operations for the animal industries sector at La Coop fédérée. "This financial support will allow for more extensive research on the workings of mammary glands in lactating sows, in order to maximise milk production. The producers will be able to operate with greater efficiency and performance," he added.
This project is being funded by the Developing Innovative Agri-Products initiative, which supports industry-led science and technology projects. The initiative is part of the larger Growing Canadian Agri-Innovations Program, a $158 million five-year program that promotes industry-led innovation initiatives that help get new agricultural products into the marketplace and improve agricultural processes.
In addition, Canada's Economic Action Plan supports agriculture as a core economic driver in this country. The Government of Canada is focused on strengthening the economy today, while preparing to pay down the deficit when the time is right, and to create and protect jobs in the future.