Canada may lose many pig farmers in 2013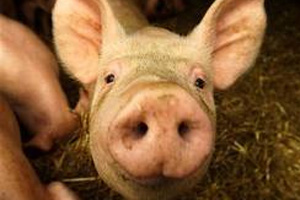 At a national meeting of provincial pork organisations, it was confirmed that Canada may lose many of its hog farmers in the coming year.
This decline could equate to a shortage of Canadian produced pork products for consumers and jeopardising 13.4 billion dollars in economic activity associated with hog production.

"It was clear to me from this meeting that provincial hog producers expect federal government to adjust existing programs and not put at risk the entire pork value chain complex," stated Canadian Pork Council's Chair, Jean-Guy Vincent. "The historic drought in the US corn belt this summer resulted in a drastic change in the economic situation facing hog producers."

Governments are urging producers to use existing programs and while the Canadian Pork Council supports this, it may not be enough.  "We are not confident that the existing federal programs will be adequate to address the current liquidity issues producers have to deal with in the coming months." continued Mr. Vincent. "We need short term actions now to maintain a critical mass of the industry and to continue to make a significant contribution to Canada's economy."

A study prepared by the George Morris Centre confirms the major contribution to the Canadian economy from Canadian hog production. The study found that the economic development associated with hog production and upstream suppliers including feed mills and crop production contributes $13.4 billion to the Canadian economy.

In addition to describing the economic benefits of Canadian pork exports to the overall economy, the study indicates that;

•    net value added contribution to Canadian GDP is $4.1 billion, 
•    total jobs for the hog production industry, the supplier industries and those induced is 75,000,
•    wages, salaries and benefits generated: $2.2 billion and
•    taxes of $350 million on products and production and another $460 million in personal income taxes.