Canada: Major supermarkets ban gestation crates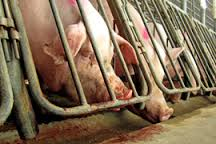 Eighth major supermarket chains in Canada have stated that it plans to stop using pork that comes from pigs that were housed in gestation crates.
The plan is to ban pork from coming gestation cages within nine years.

The eight supermarkets are:

• Walmart Canada
• Costco Canada
• Metro
• Loblaw
• Safeway Canada
• Federated Co-operatives
• Sobeys
• Co-op Atlantic

Also, earlier this month, Canada's largest fast food chain Tim Hortons said that it would eliminate gestation crates in its pork supply chain by 2022. Reports state that the fast food chain said it would work with governmental and industry entities to end the use of gestation crates in Canada.

Phase out across the country
Currently, Canada's National Farm Animal Care Council is reviewing and revising its codes of practice and a nationwide phase-out of gestation crates may be a real occurrence.