Canada increases pork business with China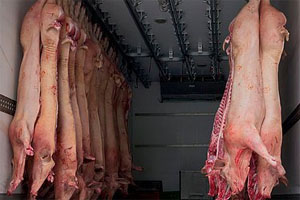 Agriculture Minister Gerry Ritz continues his trade mission to China, where he has been showcasing Canada's agricultural capabilities to help build a stronger, mutually-beneficial and prosperous bilateral relationship.
Earlier in the week Minister Ritz delivered a keynote speech to the World Meat Congress, where he spoke to more than 200 meat and livestock delegates from around the globe about Canada's efforts to meet the world's growing demand for protein through our sustainable production of world-class livestock, beef and pork.

Minister Ritz also witnessed a signing between Canada Pork International and the China Entry-Exit Quarantine and Inspection Association to help facilitate the increased trade of Canadian pork into China.

Minister Ritz was pleased to witness the signing of a Memorandum of Understanding (MOU) between the Canadian Livestock and Genetics Association and the China Cattle Farming Association. The MOU supports Canada's efforts to obtain market access for live cattle and represents the next step in Canadian technical expertise and support to China's dairy industry. This MOU follows the commitment of the Chinese Government to cooperate on market access for Canadian live cattle, which industry estimates to be worth up to $150 million.

Earlier this week, the Minister supported Prairie Orchard Farms during its signing ceremony to initiate an Omega 3 protocol feed trial project, valued at $200 million. This project will result in selling Omega 3 feed and transfer technology to produce Omega 3 eggs in China. The Minister also witnessed the signing of contracts to provide Canadian alfalfa hay valued at $80 million.
This mission, which includes a delegation of more than 70 people representing over 30 agricultural groups and four provinces, is being led by the Minister to bolster long-standing Canada-China agriculture trade ties and to highlight Canadian capabilities to support China's agriculture industry.

•  China is Canada's second most valuable agri-food export market after the United States. In 2013, the value of Canada's total agriculture and seafood exports to China was $5.6 billion, with key Canadian exports to China including canola seed and oil, soybeans, peas, as well as pork and pork products.
•  China's growing food demands align closely with the commercial interests of Canada's agriculture industry. The agreements and partnerships established during this mission will significantly strengthen Canada's agriculture ties with China.

"This mission continues to give the Canadian agriculture industry the chance to secure deals that will translate into increased demand of our producers' and processors' top-quality products. Our Government is proud to support our Canadian agriculture businesses as they grow their footprint into the growing Chinese market," Agriculture Minister Gerry Ritz stated.