Brazilian pork exports halted in 2010 – but they will return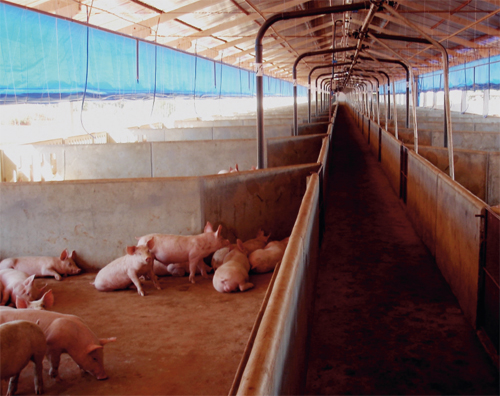 Pork exports from Brazil fell in 2010, while domestic demand grew fast. It is predicted that for 2011, things will differ only slightly. But don't think that Brazil's emergence as a significant pork exporter has come to a complete standstill. It is more likely to be just a temporary time-out…
By For the Brazilian pig industry, selling pork on the domestic Brazilian market was much more profitable than exporting last year. This was mainly due to a record economic growth, coupled with the continued rise in the strength of the Brazilian real against the American dollar and other currencies.
In total, almost 45,000 tonnes less pork was exported in 2010 in comparison to 2009, which equals a fall of about 10%, while about 140,000 tonnes more was sold on the domestic market, an increase of 4.5%. Per capita consumption of pork in Brazil has risen by virtually 50% in the past ten years and stood at 15 kg last year.
2011 forecast
The situation is expected to change little this year, even though it is expected that the economy will grow by 4-5% in 2011, compared with a record 7.5% in 2010. The pork industry was operating at close to full capacity in 2010 and although several firms are now investing in raising output, the impact will only be felt in 2012.
Prospects for exports should in theory already have been improved. This follows the acceptance by the United States that the state of Santa Caterina, the leading producer and exporter of pork, is now free of Foot-and-Mouth Disease (FMD) without vaccination. The state is the first in Brazil to achieve that status. It had been hoped that this decision would encourage the United States to import some cuts. As a consequence, other major importers which now buy little or no pork from Brazil, such as Japan, South Korea and Mexico, might follow suit.
The Brazilians, however, were forced to raise export prices by a whopping 22% during 2010. The strengthening of the Brazilian real, coupled with the sharp rise in the price of maize, of which almost 14 million tonnes are now used each year to feed pigs, were the driving forces behind that decision. Although pork prices have risen in Brazil as well, they have increased far less than those of beef, which is in short supply, causing the price of many cuts of beef to rise by 50% last year.
Because many new consumers are eating much more meat, demand for beef proved so strong that just as much was consumed last year as in 2009. Per capita consumption remained at the 35 kg level where it has hovered for the past 20 years.
The rise in the price of beef allowed the price of pork, as well as of chicken to be raised sufficiently for most companies to be profitable last year, despite the fall in exports.
Income rise
In the past ten years, about 30 million Brazilians have seen their incomes rise sufficiently to allow them to buy many more consumer goods, as well as to eat more and better. The average Brazilian consumed almost 95 kg of all types of meat last year, 10 kg more as in 2005.
Pork exports increased 16-fold between 1995 and 2005, when they peaked at 600,000 tonnes, while domestic consumption stagnated. The country was in very poor economic shape during those years, when inflation soared, unemployment was high and the economy hardly grew.
During this period, however, strides in productivity allowed the cost of producing pork to fall steadily. Conversion rates improved, while the number of piglets born per sow rose rapidly. Many small independent producers found it impossible to compete with the better capitalised integrated producers, which have gradually gained ground in the past few years. During a period of slow economic growth, the Brazilian currency remained weak, which made exporting not only of pork, but of beef and chicken as well, extremely profitable.
Because much of the pork produced in Brazil is processed by large companies which also export chicken, these companies have been able to open many new markets for Brazilian pork, even though the number of countries buying Brazilian pork, is just a fraction of those which buy chicken.Despite pork being such an important component of diets in many countries, many of the countries which import large quantities of Brazilian chicken, such as Japan and South Korea, as well as most countries in the Middle East, buy little or no pork from Brazil, ostensibly for sanitary, or for religious reasons.
Domestic market
In contrast to the situation in most countries, pork still comes a poor third in the consumer preferences of Brazilians. Less than half as much pork is consumed compared to beef or chicken, which allows these meats to benefit from economies of scale, particularly regarding transport.
The Brazilian economy has stabilised in the past ten years, following the defeat of inflation. One result has been that rather than continuing to lose ground against the American dollar and other currencies, as it had since the 1970s, the real has risen steadily. The strong real has encouraged imports of all kinds to increase, which has helped hold down inflation. The buoyant economy has encouraged foreign investors to place their money in Brazil, further strengthening the currency.Fewer manufactured goods of all types, as well as less beef and pork, have been exported in the past few years, while the previous fast growth in the export of chicken has fallen dramatically from the previous average of more than 10% each year.
It is probably too soon to state that Brazil's emergence as a significant exporter of pork, in fourth place behind the United States, the EU and Canada, was just a flash in the pan and that Brazil will never again be as competitive as it was from the late 1990s until three years ago.A new variable is that the high price of maize has allowed Brazil, which in previous years often imported some maize, to export up to 10 million tonnes, 20% of the crop in each of the past two years. This has pushed up the price of feed on the domestic market as well. But high prices are encouraging farmers to plant more of the grain, so high maize prices may not continue for much longer.The strong growth of the past few years is unlikely to last forever either.
Inflation
Last year's rapid economic growth, coupled with sharp rises in the price of food and other commodities, has caused inflation to accelerate, forcing the government to take measures to slow demand. An explosion in consumer credit encouraged consumption to increase by at least 2% more each year than the economy grew. Credit restrictions have now been introduced, which may reduce spending.
The investments in raising capacity should allow output to increase again next year, when many of the measures to cool the economy are expected to have a bigger impact, which could make exporting more attractive once again.