BPEX, NPA join forces to help pig producers tackle feed price volatility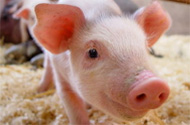 Feed represents more than 60% of a pig producer's costs and over the past three months there have been unprecedented increases in feed wheat prices globally.
These are bound to have a major impact on all English pig businesses at a time of weakening retail prices and declining prices.
To help producers tackle these problems, BPEX and the National Pig Association (NPA) have joined forces to hold a series of risk management workshops to highlight what tools are available to help protect businesses from these volatile prices, their potential benefits and their limitations.
BPEX Head of Communication Andrew Knowles said: "This volatility in feed prices and its impact on profitability echoes events in 2007/08.
"Given predictions on climate change and increases in global population and demand for feed grains, it is expected that similar volatility can be expected in future years."
The workshops are being led by Offre Demande Agricole which is a French company that has been offering training and expertise in this area for a number of years in France to arable and pig producers.
Following this series of short workshops BPEX will be arranging more extensive training for businesses interested in actively using the tools.
The details of the workshops are:
·
NPA SOUTH.
December 1, Newbury Rugby Club, 4.30pm-6.30pm. Includes buffet from 4pm.
·
NPA EAST,
December 2, Brome Grange, Eye, 4.30pm-6.30pm. Includes buffet from 4pm.
·
NPA NORTH,
December 6, The Crown, Boroughbridge ,4.30pm-6.30pm. Includes buffet from 4pm.