Boars rewarded for going around 
independently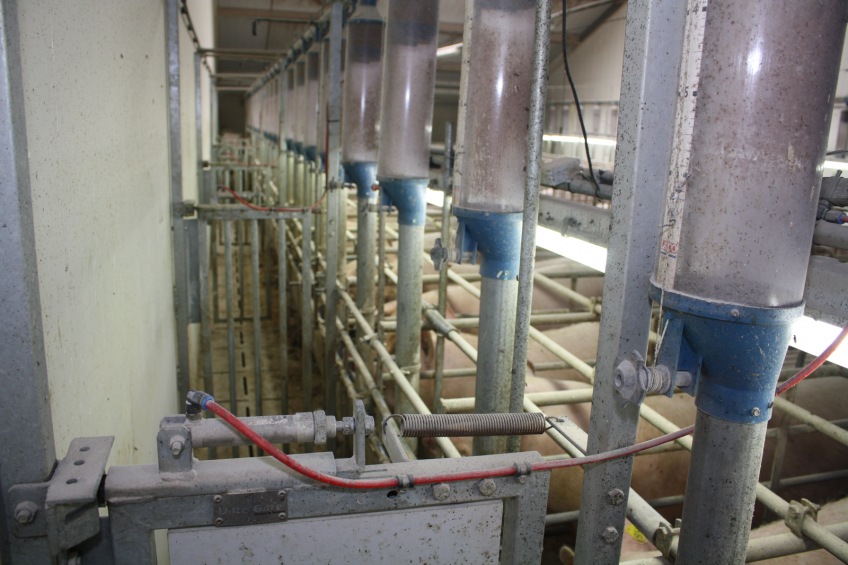 Better farming is often a matter of rearranging things more ?logically. Peter Druijff, pig farmer in the Netherlands is proud to show his farm. Why guide boars on their round through an insemination room when they can also do it themselves?
The location in the Netherlands is one that is particularly known for poultry – in the heart of the Veluwe area, famous for its Barnevelder chicken breeds. Still, the area houses quite a number of swine operations as well – one of them being the farm of Peter Druijff, 52, which is a 500 sow farrow-to-finish facility. The farm consists of three buildings on one site – one for breeding purposes, one nursery and one finishing facility. Druijff farm has various interesting features, predominantly in the breeding section, which was newly built in 2011.
Insemination rooms in breeding facility
When replacing one of his existing farm houses with this new, 50 x 40 m breeding facility, Druijff included a novelty that hadn't been seen anywhere until that moment. Indeed – even in the original plans of this farm it wasn't planned yet. Not that it mattered – the automatic boar circuit could be retrofitted into the design.
So what exactly does this entail? In many European insemination sections, boars are led around at the side of an insemination room, with all the sows in their stables facing the boar circuit. A pig farmer usually escorts boars on their journey through the insemination room, two, sometimes three times per day, to get the sows in heat. A laborious job usually, to be followed by the factual insemination.
[([002_672_rb-image-2695449.jpeg]:inzetgroot)]
Druijff uses Electronic Sow Feeding systems in order to keep his gestating sows in dynamic groups. The spacious area receives plenty of daylight.
Especially during holidays, this circuit has a high potential of not taking place because it takes at least one hour.
"This system can also be made automatic," explains Bart Hooijer, owner of Dutch livestock equipment company Vereijken Hooijer. Druijff farm was one of the first in Europe to get the so-called 'DateGate' system, essentially making the job of escorting boars redundant. The system has two boars at the far end of the room, each in different compartments, see Figure 1. Hooijer says, "The trick is to encourage the boars to go on their own. We therefore have applied a trickle feeder system right at the end of its circuit. So once the boar sees the first gate go open, he knows immediately there's food at the end of the circuit and will happily start his round."
A first door will open, the boar will commence the circuit and behind him also the door of his compartment opens. The other boar will also move one section. This determines the direction the boar will choose to go.
Hooijer explains, "The first boar's function is to raise the sows' interest. They will hear, see and smell him and through some contact they will get up and become interested. This way we know which sow is ready for insemination. Once the second boar gets in, we do what we need to do."
The system works well, Druijff says. In combination with a series of different other management measures, which include light management, the farm's insemination rate has been very acceptable and stable ever since.
[([003_226_rb-image-2695448.jpeg]:inzetgroot)]
The moveable floor is a known concept in Western Europe to avoid piglet mortality from occurring by elevating the sow floor when she gets up.
Gestation rooms
Not only in the insemination zone can novelties be found. As is common in the European Union, sows have to be kept in group housing for most of their gestation. Druijff chose to apply Electronic Sow Feeding (ESF) systems in two dynamic groups, with feeding stations, sorting stations and heat detection technology, all supplied by Nedap.
The gestating sow barn has a capacity of 370 places. The large room has windows, which allows plenty of daylight to come in. The group housing is equipped with many high and low walls, so sows can choose a safe corner to lie in, just the way they prefer.
For new gilts a special quarantine room is made. There they can get used to living in groups and figuring out how to work with ESF systems.
Farrowing rooms
Although the concept has been around for over a decade now, and the system is allegedly used in about 50% of all breeding farms in the Netherlands, Druijff farm was one of the first to apply a moveable floor (Vari Plus Floor, Vereijken Hooijer) in his six farrowing rooms.
The goal of the concept is simple – avoid pre-weaning mortality as much as possible. Hooijer says, "In fact, there are two types of pre-weaning mortality, both roughly causing 50% mortality – this is overlaying and diseases. We thought we could tackle the first one by 
introducing this type of floor."
Druijff adds, "In my case I see a reduction in crushing of 40%, that is impressive. Again, it gives me more job satisfaction."
[([004_421_rb-image-2695451.jpeg]:inzetgroot)]
Peter Druijff:"You can't take any risk with welfarists and other kinds of lobbyists constantly looking over your shoulder."
Moveable floor – moving the platform the sows are on
The system works by installing a sensor pipe on the sow's back when she's inside the farrowing crate. Should she stand up, the pipe lifts up and sets a lift in motion, moving up the platform the sows are on. At the same time, the piglet level remains normal. Once the sow lays down again, the pipe on her back will go back to default, thus lowering the level she's on. Meanwhile, the piglets are encouraged to stay in their own zone by a heated flooring system and a heating lamp.
Pride and transparency at the farm house
Peter Druijff takes pride in his new farm house, and he's happy to share this with visitors. For that reason, the farm has a large reception area, equipped with a kitchen, a coffee machine and a table – visitors are invited to sit down for a cup of coffee while browsing through informative reading material. A self-guided bicycle tour through the area even invites recreational cyclists to dismount and learn about what it is to have a pig farm in 2015. Especially during the summer months, visitors find their way to the farm and leave with a positive attitude, says Druijff. Most of them are totally unaware of what happens behind the scenes at a pig farm, he explains.
Druijff admits that he was motivated to do what he did because of the country's strong animal welfarism climate. He says, "You can't take any risks with welfarists and other kinds of lobbyists constantly looking over your shoulder. And besides that, it just makes working more pleasant, it gives me more job satisfaction."
Druijff farm, Voorthuizen, 
the Netherlands
Type of farm: Farrow-to-finish
Number of sows: 500
Capacity nursery facility: 2,200
Capacity finishing facility: 2,700
Pre-weaning mortality: 12%
Employees: 1
Feed Conversion Ratio (finishing): 2.4-2.6
Average Daily Gain (finishing): 800 g
Pigs/sow/year: 30