Boar taint vaccination starts in Belgium/ WATCH VACCINATION VIDEO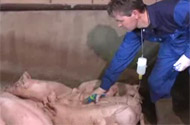 An award winning swine farm has become the first in Belgium to replace physical castration of piglets with vaccination as its standard method of reducing boar taint.
Chris and Ria Peeters from Wolkenhoeve (Cloud Farm) in Geel decided to make the switch as part of their on-going commitment to quality and animal welfare.
"Castration has been necessary because it prevents the boar taint that is unpleasant to many people. It is usually done when piglets are three days old," said Chris Peeters.
"We have to do it, but it is not pleasant work. For a long time we have been looking for a way to avoid the animals suffering."
The EU approval of Improvac (Pfizer Animal Health) gave the owners of Wolkenhoeve just what they were looking for. Along with their veterinarian, they gathered and assessed all the necessary information and have now started vaccinating their piglets.
"Animal well-being is extremely important at Wolkenhoeve. When you see that thanks to this vaccine you no longer have to castrate pigs, we think that's a serious step in the right direction," Mr Peeters said.
Vaccination preferred over castration
The meat they produce at Wolkenhoeve is sold in their own farm shop and they are confident that their customers are right behind their decision.
Research conducted at the end of 2009 by the Department of Agricultural Economics in Ghent revealed that 72% of Belgian consumers prefer vaccination over castration. In the Netherlands the figure is even higher at 74%.
"The better the life that animals have, the better the quality of the meat," said Chris. "However you look at it, the quality of food and the welfare of the pig go together."
Improved welfare is not the only reason behind the decision to drop castration and start vaccination.
"We shouldn't lose sight of the vaccine's economic benefits either," explained Chris. "You make a relatively small investment for vaccination but notice significant improvements in carcasses when animals are slaughtered.
"The environment also reaps the benefits. The animal's food conversion is clearly improved which means they also produce less manure."
Awards
Wolkenhoeve has already won awards for its pioneering approach to pig production. Last year it won the Flanders Golden Pig Award which is given to the farmer who best combines good business with successful integration into the rural environment and sustainable development.
Also in 2009, the farm won the Agrafiek Prize for the most entrepreneurial and innovative production of pigs in Belgium.
Earlier this year Belgium's largest supermarket chain announced that it would stop selling pork from castrated pigs by the end of 2010. The farms supplying Colruyt and Okay retail outlets are due to start vaccinating in the next few weeks.
CLICK TO WATCH VIDEO BELOW: