Biomin takes sustainability into southern Vietnam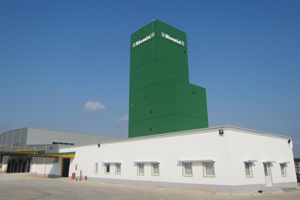 After China, the second-most important pig market in Asia is Vietnam. Biomin experienced this when demand for premixes and feed additives threatened to exceed the supply. A brand new, green, factory has therefore been opened near Ho Chi Minh City.
Preaching the gospel of sustainability comes with practising responsibilities. At the company's own World Nutrition Forum, held in 2012 in Singapore, Biomin promoted the notion of 'sustainability' as one of its corporate key values. When building new facilities, the company therefore takes the concept into account.

In this way, long-term environmental responsibility for Planet Earth was brought to a part of the world where the concept has been relatively unknown – Vietnam. In early 2013, the company opened a new 4 ha premix facility close to Ho Chi Minh City in southern Vietnam, with some remarkable 'green' features. The office roofs are covered with grass, windows offer double insulation and solar panels provide plenty of energy to keep the offices at the plant going.
The new fully-automatic production plant is Biomin's second facility in Vietnam. In 1997, Biomin established itself in the South East Asian country, known for its predilection for pork. Based in Hanoi, northern Vietnam, the company initially produced concentrate feed products. Due to the extensive market opportunities for sale to feed mills, a strategic switch was made in 1999 to focus solely on feed additives and premix production.
Since these first steps, the Vietnamese market has been in constant change. Professional feed mills have been established and even the larger swine producers have shown interest in buying feed additives directly from 
producers.

Demand
At the moment, 700 tonnes of micro premix are being sold per month – mainly to Vietnam. Since the Hanoi plant has a daily capacity of 20 tonnes, demand has been overtaking supply capacity. The addition of a second factory was much-wanted, Dr Jan Vanbrabant, CEO Asia-Pacific, Biomin and his colleague Phuong Nguyen Quang, COO, Biomin Vietnam explain. Vanbrabant says, "The new facility will provide a daily capacity addition of 60 tonnes. The addition will also allow us to export to other countries in the area; we are planning to start exporting to Taiwan, Cambodia, Myanmar and Bangladesh." In total, about 70% of the new plant's production will be sold in Vietnam – and 30% abroad.
Going to these countries to build a new facility was not really an option for now, adds Vanbrabant, stating: "Vietnam is the most important market for us. It was obvious we had to be in the south of Vietnam. That is where the largest part of the market is anyway."
But, the Asian expansion of the Austria-based company is not over. The company plans to open a new plant for feed additives near the Chinese city of Wuxi in 2015. New sustainability ideas are still welcome.

caption:  The new Biomin plant near Ho Chi Minh City will have a daily capacity of producing 60 tonnes of feed additives and premixes.