Better farrowing frame for sows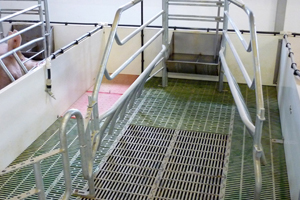 The new continental-style, side-opening, farrowing frame from ARM Buildings offers several advantages.
One side of the frame is fixed but the other side is pivoted on the front leg to allow it to be swung fully open. This makes it easier for the sow to enter from the passage in the farrowing house.
This design feature also enables the width of the frame to be adjusted, between 560 mm and 620 mm to suit the size of the sow, helping to protect her piglets. The length of the frame can also be varied between 1700 mm and 1900 mm by the positioning of the adjustable rear gate.
Made from galvanised tubular steel with a stainless steel trough as standard, the frame costs £215.00. Various models of drinker can be supplied according to the farmer's preference.
ARM Buildings is based in Staffordshire, UK.