Benchmarking helps 
achieve 30 piglets 
per sow per year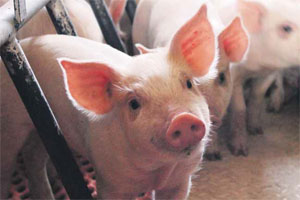 The holy grail of achieving 30 piglets per sow per year is not only a hot number in Europe. United States-based feed company Purina Animal Nutrition has been coaching producers to achieve this number. One way to do so is knowing and comparing.
Progress begins by examining your current situation and past experiences, evaluating trends and then using this information to set actionable goals. US swine producers who adopt this mentality continue to move forward in efficiency and productivity through benchmarking.

The importance of benchmarking was highlighted at a recent swine producer-focused conference in St Louis, Missouri, held in conjunction with Purina Animal Nutrition's Feeding for 30 programme. At this event, producers defined a benchmark as a point for comparison and benchmarking as a process of using trends to identify room for growth.

To determine areas for improvement, the group discussed goals for the future of their operations. More than 70% of the group recognised 30 pigs per sow per year (PSY) as a primary goal for their farrowing facilities. However, only 22.6% of these producers had met that goal and were able to sustain the progress.

These figures are consistent with industry records compiled by Swine Management Services, in Fremont, Nebraska. Production data was gathered from more than 760 farms representing 1.3 million sows in the US and Canada through 2012. In 2012, the data showed a difference of more than eight pigs weaned per sow per year between the top 10% of operations and the bottom 25% (29.57 PSY versus 21.16 PSY).

Furthermore, piglet survival rates were 82.5% for the top 10% but 77.6% for the bottom 25% with the top facilities, weaning 11.77 pigs per sow per farrowing and the bottom 25% facilities producing 9.67 pigs per sow per farrowing.
Producers who track the piglets per sow per year of their operation and compare to these industry levels are able to determine potential for growth. All operations have the opportunity to use these benchmarks to set achievable goals while top producers can continue to fine-tune their operations and strive for greater consistency.

Moving forward
This process has helped producers to move forward in recent years. When Swine Management Systems started their database a few years ago, there were no farms over 30 pigs per sow per year. New data through 2012 shows clear industry growth. Out of 822 farms analysed, 16 are now consistently over 30 pigs per sow per year with measurable growth in many of the measured operations.
Of course, industry success begins with individual growth. Through a custom benchmarking approach, Purina Animal Nutrition is working with a group of US producers. Realising the role that birth weights can play in helping pigs reach their full potential (a 1 pound or 0.45 kg difference in birth weight (1.40 kg versus 0.95 kg) has been shown to result in twice the survival rate from birth to weaning), producers are encouraged to monitor birth weight trends as well as sow and litter performance.
Preliminary data shows that four of the six operations in the project averaged birth weights at 1.40 kg while the other two units had higher birth weights, nearing 1.59 kg. While all of the operations had adequate birth weights, evaluating trends by farrowing groups and parity levels showed the individual producers where they could improve so that sows below the benchmark of 1.40 kg average birth weights could be managed differently.

Areas of improvement included sow nutrition, mineral supplementation and farrowing barn management – with changes in sow nutrition making the most significant differences.

Ultimately, the need for additional nutrients in sow rations is an area of focus.
The need for more nutrition in these operations is a common theme among US swine herds as a result of the increased genetic capabilities. As genetic capabilities of sows continue to improve, sows must be able to support larger litters without sacrificing birth weights.

Experiences from Nebraska
US producers who have started benchmarking and set goals to move towards 30 pigs per sow per year have seen triumphs first-hand.

Dave Hansen, owner/ operator of Hansen Hog West, a 3,000 sow farrow-to-wean unit in Nebraska, was involved with a benchmarking programme. Because Hansen is monitoring the progress of birth weights by groups, the operation is moving towards the 30 pigs per sow per year mark. On the operation, the heavier-born pigs on average have been better able to survive through weaning.

A change to ad libitum feeding in farrowing has made the most difference in improved birth weights and contributed to an increasing pigs per sow per year trend on his operation. The change to added nutrients in the sow ration also resulted in a measured increase in total pigs born and a decrease in days to rebreeding.

"The added nutrition has helped the sows and their litters," Hansen says. "Tracking our progress helped us to know where we were starting from and what we needed to improve."

Iowa example
Another producer, Mike Deahr, has also made great strides on his 3,000 sow farrow-to-wean/finish operation in Iowa because he saw the need for additional nutrition fed to the sow. In 2010, record-keeping and setting benchmarks helped him see excessive pre-weaning mortality rates. The team quickly recognised a need for change and evaluated performance trends to determine which areas to focus on.

To reach their goal of moving towards 30 full potential pigs per sow per year, Deahr first looked for ways to improve sow health and longevity. The management team began tracking pig birth weights, litter performance and sow feed consumption. Higher pre-weaning mortality rates were seen from pigs with lower birth weights. Furthermore, sows with less consumption often produced smaller-born pigs.

Noticing a trend between sow nutrition and pig birth weights, the producer made a switch from feeding all lactating sows equal rations five times per day to a mostly ad libitum programme with additional attention paid to sow minerals. Today, sows receive additional feed when they have less than 2 pounds (0.91 kg) remaining in their feeder. Sow diets are also increased by 2 pounds (0.91 kg) at day-80 in the late gestation period. Since making the change to higher sow nutrition, Deahr has recorded an improvement of 0.18 kg on average birth weights (from 1.32 kg to 1.50 kg between fourth-quarter 2012 and first-quarter 2012.
The changes in sow nutrition have also helped Deahr to have 15% more parity one females reach their third parity with a retention rate of nearly 77%, allowing him to cull sows based on performance or genetic potential. Benchmarking data on the herd shows a growth to 6.30 kg average litter weaning weights and 26 full potential pigs per sow per year.
Improvement
Producers like these, who are focusing on areas for improvement, are helping to push the US piglet per sow per year trend forward as they monitor progress and evaluate areas for growth.

Through the Feeding for 30programme, a network of producers and industry experts have come together to discuss industry trends, management practices and research as US producers continue to work towards 30 pigs per sow per year.

References available on request.
To learn more about Feeding for 30, visit www.FeedingFor30.com and connect with other swine producers at www.facebook.com/Feedingfor30.