Belarus to boost number of pigs in 2015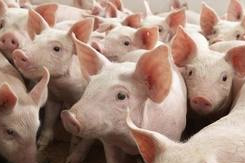 By 2015 Belarus will increase the number of pigs on farms and enterprises by more than 10%, according to the report of the country's Minister of Agriculture and Food.
At the moment, the number of pigs in the country is 2.7 million. However, by the end of this year 15 new pig farms will be commissioned, so the number of animals will increase by another 310,000-330,000 heads.
In 2012/13, Belarus lost about 7% of its pig's population as the country struggled with the threat of African swine fever (ASF) just as in Russia, the local veterinary specialists had to cull all pigs on farms with low level of biological protection.
The decrease in the number of animals and the following drop in pork production have contributed to the serious rise in pork prices on the domestic market. According to the report from the local static services, since the beginning of the year the price of pork in Belarus has risen by almost 50%. This was a significant jump in pork prices among all members of the Customs Union.
As stated by the country's President Alexandr Lukashenko, the increase in the number of pigs should contribute to the improvement of the pork market and the decrease in sale prices.