Banks see need for investments in Botswana pig industry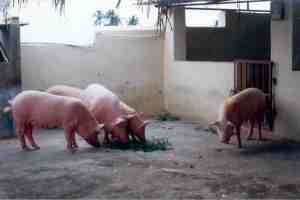 Several financial institutions in Botswana have announced their interest to increase investments in the country's pig industry due to a promising global market for pork.
Addressing livestock farmers in Pandamatenga area, Stanbic Bank of Botswana CEO Leina Gabaraane said his bank has launched a programme to cultivate business relations with pig farmers in the entire country.
"Definitely we desire to connect with livestock farmers engaged in pig farming," he stated.
The banker added that his institution has been working with farmers in all forms of agriculture including pig rearing for quite some time now. He said pork is becoming the world's leading choice meat in future due to rising demand in terms of per capita consumption which is partly due to growth in world population.
He lamented over the fact that government has not seized the opportunity to channel its efforts and investment in the pig industry which only accounts for about 23.5% of the total that goes to the livestock sector every year. More emphasis is placed on beef.
Barclays
Aupa Monyatsi, banker with Barclays Bank of Botswana, said that his bank developed a special interest in the pig industry. He said pork processing needs a push as it is the driving force behind any growth of the pig industry.
"It is needless to say an increase in then primary production of pigs should also be matched with processing plants," Monyatsi said. At the same time he bemoaned lack of sufficient meat processing plants in the country and urged the government to consider making it a priority to construct more abattoirs.
Econsult
Keith Jeffries, CEO of Econsult, feels construction of abattoirs and processing plants should be left in the hands of the private sector. He urged government in conjunction with the Bank of Botswana to develop a financial strategy that will help to support the country's pig industry.
"A pragmatic approach is needed to boost pig production while taking advantage of the rising market demand," Jeffries said. He would like to see investments to go to the livestock industry during the 10th National Development Plan and with more emphasis on the pig sector. He advised banks and other financial institutions to extend long term loans to pig farmers so as to increase pig production.
LEA
The Local Enterprise Authority (LEA) urged financiers in Botswana to target their resources at farmers in pig production and firms in pork processing. The organisation called on the government to consider the establishment of major national abattoirs to be built in Gaborone and that this should be supported with regional slaughterhouses to absorb local production.
"Insufficient abattoirs, processing plants and slaughterhouses have contributed to stagnation in pig production," said LEA senior researcher Isaac Mbaiwa.
LEA recommended the ministry of agriculture that at least four new abattoirs need to be built in all the major town of the country close pig farmers. Construction of abattoirs in strategic towns is expected to cost about $12 million. (by Alfred Sayila)