Ban on pork from EU can affect Russian pork prices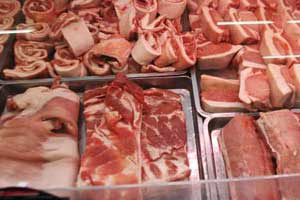 Retail pork prices will not be affected due to the prohibition of pork supplies from Europe, while wholesale prices may rise, according to the head of the National Meat Association Sergey Yushin.
Possible increase in prices in the wholesale sector can reach 10-15%, he said. This change will not have a strong influence on the market situation in general. "The price on the wholesale market both on commercial pigs, and on most types of cuts is about 15-20% lower than in the summer of 2012."

In the summer of 2012 pig semi-carcass costs about RUB 130 (US$3.7) per 1 kg, while now it is about RUB 105 (US$3.0) per 1 kg, he said. "Wholesale prices of pork during the last four months have been falling again, but the retail prices remain stable. So I really hope that will be only be a small price increase," said Yushin. According to him the prices may rise to the level they were a couple months ago or to the level of summer 2012.

The volume of abandoned pork imports from the EU may be compensated by the pork imports from Canada or Brazil, stated the head of a trade association. "If the Americans will provide pork and give guarantees that it will be without ractopamine, then United States will be able to reinstate imports of pork to Russia within tariff quotas," said Yushin. Tariff quotas for pork are not tied to any specific countries, he said.