Australia: Pig Day, Southern Pork Alliance launched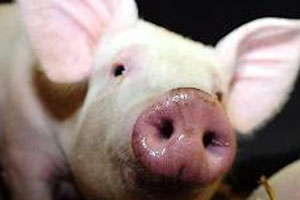 Pork CRC participated in the free South Australian Pig Industry Day at Roseworthy, Friday, 22 February, facilitated by SA Pig Industry Fund (through SA Pig Industry Advisory Group).
A very well attended afternoon of  Pork CRC/APL seminars covered sow housing, Shaping our Future, industry transition from gestation stalls, recent meat eating quality work, pork supply chain integrity, APL policy activities, Australian pigmeat market trends and on-farm application of recent Pork CRC research results/recommendations.

The day also marked the launch of Southern Pork Alliance, a newly formed alliance between SARDI and University of Adelaide – see below.

Animal health and welfare focus in SA's Southern Pork Alliance
South Australia's pig industry will be supported by local research into sow and piglet housing, reproduction, welfare and other new initiatives under the new Southern Pork Alliance.  The alliance launched at the University of Adelaide's Roseworthy Campus on February 22, consolidates SA's leading role in Australian pig research, development and extension. The alliance between the University's School of Animal and Veterinary Sciences and the South Australian Research and Development Institute (SARDI), will capitalise on the higher education, animal health and welfare, reproduction, molecular diagnostics, product quality and food safety capabilities at Roseworthy as well as the Waite Campus in Adelaide.
SA is a major supplier of Australia's pork, with more than 25% of domestic production – about 1.2 million pigs or more than 90,000 tonnes of pork – processed at modern plants in Murray Bridge and Port Wakefield.

Dr Roger Campbell, Chief Executive Officer of the national Cooperative Research Centre for High Integrity Australian Pork  (PorkCRC), said industry was working closely with Southern Pork Alliance specialists at Roseworthy to promote better standards of production and product quality.

"Whole-value-chain innovation, collaboration and research, development and education will ensure the future of a more efficient, sustainable and profitable Australian pork industry," Dr Campbell said.

Pork CRC, which also is based at Roseworthy, funds a range of research projects covering nutrition, reproduction, housing, production and welfare, with several key projects involving University of Adelaide and SARDI scientists.

Professor Iain Reid, Executive Dean (Roseworthy Campus) at University of Adelaide, said pork research at Roseworthy was focused on sow and piglet management, with particular emphasis on reproduction, health, welfare and housing.

"These areas are becoming increasingly important for the efficient and ethical production of pork, without the need for confinement of sows in stalls or widespread use of antibiotic medications. For the School of Animal and Veterinary Sciences, this alliance dramatically strengthens the potential for research and teaching in pig production and disease management, making it a unique resource among Australian veterinary schools and ensuring a continuing supply of researchers and veterinarians to service the needs of the industry."

Professor Alan Tilbrook, SARDI Livestock and Farming Systems Research Chief, said the alliance brought together a diverse range of infrastructure and high-level skills.

"Our pig and poultry production researchers work with industry, producers, vets, engineers and nutritionists, as well as with University of Adelaide and TAFE programs at Roseworthy," Prof Tilbrook said. "SARDI and the University of Adelaide have been conducting a nationally recognised course in pork industry training, which this year attracted participants from all around Australia."

The new pork alliance was launched at the SA Pig Industry Open Day where local producers, suppliers, researchers and students were updated on the latest pork industry research.

The alliance follows the establishment last year of the Southern Poultry Alliance between the University of Adelaide and SARDI.