Armenia cuts pork imports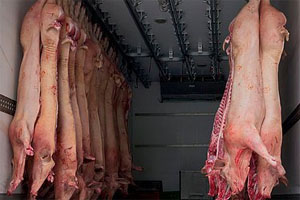 Imports of pork and live pigs in Armenia for the first half of 2013 has plummeted following the rapid development of domestic production.
According to the Customs Service for the first six months only 14 pigs were imported while during the same period of 2012 this figure was 2,100 pigs. Imports of chilled and frozen pork during the same period decreased from 4,500 tonnes to 3,900 tonnes.

The Custom Service also noted that 72% of imported pork has been supplied from Brazil, while the rest comes mainly from the CIS countries.

Experts attribute the drop in imports to the development of domestic production. The livestock department of Armenia's Ministry of Agriculture reported that the number of pigs in Armenia increased by 40,000, year-to-year comparison. And now, the country has 145,000 pigs. As a result, the price of pork has dropped. Last year it was about AMD 3800-4000 (US$9.3-9.8), now it is AMD 2800-3000 (US$6.8-7.3) per kg.

At the same time, the Ministry of Agriculture noted the drop in prices is mostly seasonal and soon the price of pigs should rise again.