Argentinian swine industry looking for ways to grow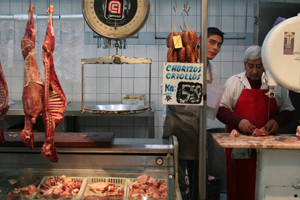 Driven by an increase in domestic consumption, Argentinian pork production grew by more than 40% between 2001 and 2011. It is far from a jubilant story though. Growth seems to come in waves and trade issues with for instance Brazil make life for Argentina's swine producers even more complicated.
To start off: A quick introduction to Argentina's swine industry. According to a report by the Argentinian ministry of Agriculture, Animal Ranching and Fisheries (Minagri), last year, Argentina had a herd of almost 3.5 million head of pigs, a 6.06% year-on-year increase. These are spread out over more than 50,000 production units – from subsistence production to vertical integration. About 80% of the units have less than ten sows and only 0.1% have more than 500.

Production is concentrated in the Buenos Aires, Córdoba and Santa Fe provinces, which, together, account for about 70% of Argentina's sow herd. These provinces also harbour the largest number of slaughtering plants (see Figure 1). Last year, the country counted 169 processing plants, 23 municipal abattoirs and six rural plants. Production grew over 40% between 2001 and 2011.

Figures
Despite all these growth figures, Argentina's pig industry seems to be on a uphill winding road. One of the reasons for that is related to the fact that domestic pork consumption is still low, below 9 kg per capita per year. After all, historically, Argentina is linked to beef consumption. According to data from the United States Department of Agriculture (USDA), beef comprises 61% of the animal protein included in the Argentinian diet, with the remainder being shared among other products such as poultry, lamb, goat and pork.

Nevertheless, this situation has been changing a bit over the last few years. Promoting pork consumption has become an instrument for the government to achieve a lower domestic beef consumption. This beef, in turn, would be good for exports, the government feels.

On one hand, the government's strategy appears to have provided good results. Data from the Argentinian ministry of Agriculture, Animal Ranching and Fisheries (Minagri) show that per capita pork consumption increased by over 50% since the early nineties, reaching 8.64 kg last year (see Figure 2). On the other hand, however, Argentina still depends on the external market to supply domestic demand, for example fresh meat, by-products or processed products. The country currently purchases 15% of its pork on an annual basis, which is a figure similar to the nineties.

External dependence
External dependence, however, leads to more risk of volatility. The first six months of 2012, for instance, were characterised by a ban on pork imports from Brazil, which had been the main supplier for pork to Argentina. Exact reasons for this policy were not clear and the ministry refrained from commenting on this situation. In this period, the government also announced import quota. The limit was set at 3,000 metric tonnes per month, well below the volume traded in 2011.

In this period, the Argentinian government also warned foreign trade partners that pork could only be bought for the manufacturing of low cost meat products. With that action, they imagined there would be a rapid expansion of the Argentinian industry's capacity to supply the domestic market, while also reducing imports. Soon, however, rumours spread about an alleged pork supply shortage in Argentina.

Andres Giglione, spokesman for La Pompeya, one of the main pork processors in Argentina, said at the time that the market would adjust itself in order to answer the internal supply, in case the product was lacking. "Pork is not part of an irreplaceable consumption habit, such as is the case with beef. If there is a lower import volume, prices will rise, so consumers will replace the more expensive meat by another, cheaper meat, such as chicken, for example. Then, supply will eventually meet demand."
Other events occurred as well. During the Argentina-Brazil trade restrictions, two pig slaughter plants were opened, both of them equipped with state-of-the-art technology and a high daily slaughtering capacity (see box).

After nearly four months the situation with Brazil started to settle down. In order to re-establish the trade, Brazil blocked the purchase of other agricultural products, such as wine, grapes, vehicles, olives, apples, olive oil, pears and cheese. This forced the Argentinian government to be more flexible regarding pork imports.

Import scenario
The import scenario looks like the situation in Argentina 20 years ago. In the 1990s, high import volumes, at similar levels as today, led to a significant decline of the domestic pork production. According to Minagri, many producers were forced to leave the industry, paving the way for producers with a new production profile. Small units, or even backyard production, barely using modern farm technology skills, used to be standard before this period. In addition, the 1990s saw the appearance of large companies with vertical integration systems, higher technological levels and gains at both efficiency and competitiveness.
Such a change in the production profile contributed to a higher stability in domestic production. It was, however, not strong enough to decrease the Argentinian dependence on pork imports.

Feeding
Dr Patricia Milhares, responsible for the pig sector at Minagri, explains that nowadays medium and large producers account for about 75% of sows. The rest of the production is split among several small properties, with a subsistence or small commercial enterprise profile.

She says that the sector has many advantages, such as supplies abundance, labour force, and water and technology availability. In addition, feeding costs, usually regarded as a limiting factor, are not a problem for Argentinian pork producers. Andres Giglione, La Pompeya, says producer profits these days are quite good. "The most important costs are related to animal feeding, but we have lower prices than the rest of the world. This cost is up to 30% lower than in the international market due to the absence of taxes."Profitability was also favoured over the last few years due to a decrease in maize costs and an increase in prices paid to producers. Giglione adds: "The sector is growing and can grow even more if it manages to sell pork cheaper than beef."Milhares is happy that the country does not have any major health issues. She says, "We are free from the main diseases which highly impact exporting, such as Classical Swine Fever (CSF), African Swine Fever (ASF), Porcine Reproductive and Respiratory Syndrome (PRRS), Foot-and-Mouth Disease (FMD) and we also have specific plans for other diseases."
Modern slaughterhouses in Argentina
The Association of Argentinian Coops and the company Magros Alimentosinvested over US$25 million in a model production unit, at the San Luis province. The plant will have an initial capacity for 1,300 sows. According to the company's CEOs, piglets are handled according to strict animal welfare rules, with adequate feeding, temperature and moisture. At this phase, piglets do not have any contact with the external environment, the air is filtered, conditioned and purified. The company aims to arrive at 2,600 sows a the second construction phase and eventually at 5,000 sows within five years. This will force the company to search for external customers.
The new Qualitá slaughterhouse recently inaugurated a model plant, that shall process 75% of the pigs from small producers in the Córdoba province. The company will place its products in the market with its own brand and lower prices, in order to compete with beef and poultry. With investments over US$4.6 million, Qualitá facilities will harbour very modern equipment, which will allow it to process medium size pieces, with both fresh and frozen cuts. The plant has 2,200 m2 and employs 130 workers. The unit will also use manure for the production of biogas and energy.