An entirely different kind of reality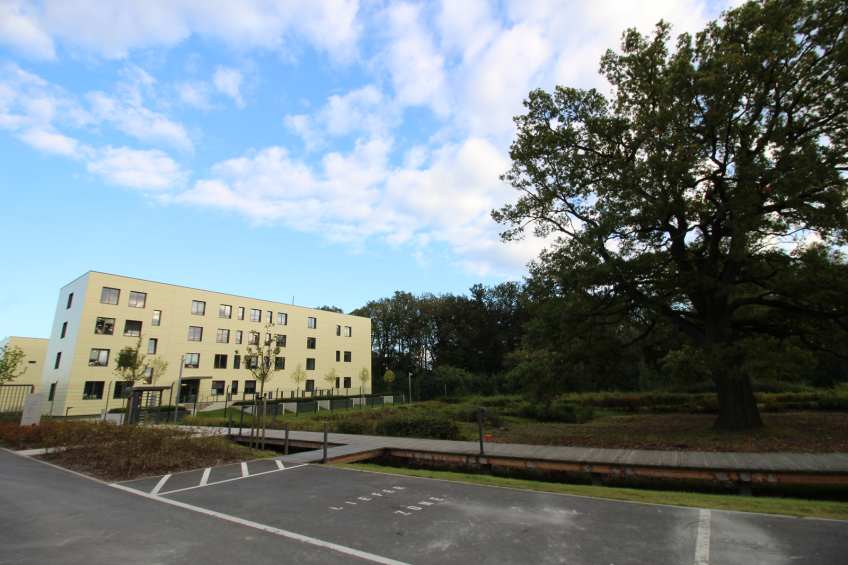 Admittedly, investments of €55 million do not apply to most farms. But by doing so, Boehringer Ingelheim created a research facility for animal health that is literally separated from its environment. Not a single particle comes in or goes out its Hanover, Germany-based vaccine research centre.
You can't get the status of being a highly secured laboratory if not every single detail is tried and tested very precisely. For that reason, the first batch of piglets that was ever allowed into the Boehringer Ingelheim Veterinary Research Center (BIVRC) in 2013 did not go in for animal health trials at all. On the contrary – it went in to test the European Veterinary Center itself. Does the manure gutter work properly? Is the air really cleaned the way it should be? Are the feed pipes connected correctly?
The answers were yes, yes and yes, explains Dr Konrad Stadler. The virologist has worked with Boehringer Ingelheim for about four years, and has been in charge of research at the facility in Hanover, Germany, since its opening in 2012. He grins, "Do you know the average daily gain of that first batch of piglets? Under commercial conditions, pigs reach about 700-800 g," he says, building up the tension. "Here it was 1.1 kg – obviously the animals felt very comfortable in the facility."
There couldn't have been a better way to prove the veterinary centre's efficacy in itself. No bug or virus can enter or leave the building – ideal circumstances to test vaccines.
Going in
A Good Laboratory Practice (GLP) accreditation forms the basis for each laboratory. This rather complicated accreditation was achieved in Hanover and ensures that the site meets all quality criteria that one might expect for obtaining reliable data.
In order to get to the pigs, staff are only allowed to enter or leave having showered twice. A first row of showers gets them into the inner controlled area – in which they will be required to wear blue suits. Next, they will be required to shower again in order to get to the specific pig section they need to be – in these facilities, the colours are green. These colours will assist the researchers never to go into a different zone without showering.
Staff coming in, however, do have the opportunity to briefly check the pigs before they descend into the pig zone. A concourse has been constructed at the top of the facility, there is a viewing gallery separated from the public by double glass. This way – e.g. after a weekend a quick first check can be made to see which pigs might need attention first. Air pressure in the pig zone is lower than in the corridor or in the entire rest of the facility. This way, air and pathogens can never come out but will always stay inside.
The visiting concourse has one more purpose – as the concourse has a glass window, daylight is allowed to shine right into the pig's dwellings. Stadler says, "This way they can enjoy some daylight."
Going out
It doesn't stop there, as there are very good reasons to not only have a strong inward guarding system, but also outward biosafety. One only has to think of the neighbouring and world-famous University of Veterinary Medicine Hannover (TiHo), to understand why. What if a potentially harmful substance would spread?
The security is best illustrated by the high levels of biosafety achieved in the laboratory.
The entire lab works at Biosafety Level 2 – and the pig section can be operated even at Biosafety Level 3, all but the highest amount of biosafety possible. The bottom line is nothing that happens inside, will affect daily life outside. This is necessary, Stadler explains, as the facility will run trials with potentially infectious pathogens, like e.g. Porcine Reproductive and Respiratory Syndrome (PRRS).
Not only veterinary neighbours are being thought of, Stadler adds. As the facility is located near the city of Hanover, upon construction questions were raised by locals fearing odours or busy lorry transport. No pig, however close one gets, can ever be vaguely smelled. So it's no surprise that two years since its construction, it's quiet in and around the laboratory. A road of years through European and German labyrinths of legislation has paid off.
Air
One of the best examples of high biosafety is by mentioning the air, which is treated with far more care than most. Boehringer Ingelheim is filtering all the air going out from the entire facility. "The high efficiency particulate air (HEPA) filtration system takes out more than 99.99% of all particles – this includes virus particles," Stadler says.
Apart from air leaving the facility, also animal carcasses will have to leave the premises. When trials are over, the pigs have to be sedated and killed before being analysed in pathology. To destroy all pathogens, the animals are thermally decontaminated in a very profound manner. The carcasses are brought to a large on-site container. Once this is filled with carcasses, a mixture of sodium hydroxide and water is added. This highly corrosive liquid ensures that animal bodies can dissolve by processing at 150°C for five hours, simultaneously all bacterial and viral particles are destroyed. Measures impossible to achieve for average pig farms, but it does go to show what high biosecurity can achieve. Stadler smiles and says, "You always have to remember: this is not a field setting, this is sophisticated lab technology."
The BIVRC
Boehringer Ingelheim Animal Health continually invests more than 11% of its net sales into research and development. The €55 million BIVRC was constructed in 2012 for research into pig and cattle vaccines – so far only trials involving pigs have been done. It was necessary to have this kind of facility as it allows profound research into more complex pig viruses like e.g. PRRS virus. In addition, new delivery techniques and new routes of vaccination are being researched, as well as the development of new adjuvants. The centre consists of three parts, being office, laboratory and animal facilities – the last covering 3,500 m2 of which 1,800 m2 is the net area for animals. In practice, it has a capacity for 350 pigs present in the facility. The research centre was originally built to accommodate 50 employees, most of them scientists – currently there are already 94 working at the site, active in e.g. assay development, virology, bacteriology, immunology, and diagnostics. In the future, research facilities for poultry might be added. The centre works with additional Boehringer Ingelheim research centres around the world, located in the US, Mexico, Japan, and China.