Amsterdam to host conference – Boars Heading For 2018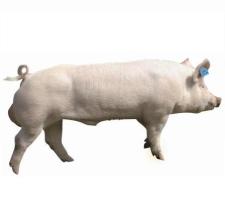 Amsterdam, the Netherlands, will host an international conference, called 'Boars heading for 2018', to discuss solutions to find alternatives for surgical castration. The conference will be held 1-2 December, 2011.
The European Commission and representatives of European pig farmers, meat industry, traders, retailers, scientists and NGO's committed themselves to plan to voluntarily end surgical castration of pigs in Europe by January 1st, 2018.
A European approach is therefore necessary to develop the necessary tools, and ensure a fair distribution of the costs.
In the international markets, however, many different views exist on the issue of castration and non-castration of pigs.
One solution discussed may be the development of boars low on boar taint, techniques pursued by various breeding companies at the moment, including Suisag, of which the 'Premo' boar is pictured.
Exchange knowledge
The objectives of the conference are to exchange knowledge and facts, to identify the challenges and to find possible directions for solutions in the various European countries. By participating delegates can make a difference, since their views will be included in the design of future international public and private strategies and courses of action for promoting the production and marketing of entire male pigs. Delegates will be challenged as the conference will be inspiring and thought-provoking. The conference enables to network and build and strengthen relationships. The final goal is to explore, develop and work together on ending surgical castration of pigs in 2018.
During the conference an international group of thought leaders representing food companies, major organisations and universities will discuss challenges and opportunities in the marketing of pork products from non-castrated male pigs.
Conference focus
The conference focuses on all organisations, companies, NGOs, scientists and journalists involved in the European pork supply chain. The working language at the conference is English.
The seminar's programme is drawn up by Wageningen University and Research Centre in close co-operation with the organising committee consisting of organisations and companies within the Dutch pork supply chain.
Information and application forms for the conference can be found at www.boars2018.com.
More informations of potential solutions can be read in a comprehensive article which appeared earlier this year in Pig Progress.
Related websites:
• Wageningen University and Research Centre (WUR)