Amlan International to open subsidiary in Shenzhen, China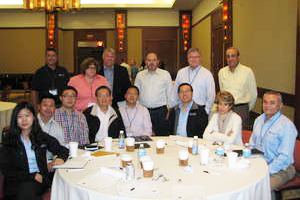 Amlan International, the animal health and nutrition division of Oil-Dri Corporation of America, announced its intent to open a wholly owned subsidiary in Shenzhen, China in 2014.
The announcement was made at the company's annual global sales meeting in Itasca, Illinois USA, where Dan Jaffee, president of Oil-Dri Corporation of America discussed the future of Amlan International in China.

Jaffee said, "The success of our company lies in our ability to create value for our customers by understanding their concerns and delivering solutions that help them become more efficient. We have seen positive results and customer growth since we entered the China market 10 years ago. We have been able to provide customers with proven toxin control products in China where over 50% of the world's pork protein is produced."

Dr. Ron Cravens, vice president of Amlan International, said, "We believe that increased personal technical service is important to maintaining and growing our business. We are building a local team of technical, marketing and logistics experts to provide mycotoxin analysis and lead discussions on how producers can reach peak performance in their livestock production facilities. We feel strongly that our experience in providing solutions that manage disease and optimize gut function will positively impact the market by bringing improved results to our customer's businesses."

Amlan International sells disease management solutions that help livestock producers achieve peak performance in their operations. Amlan International's advanced line of Calibrin mycotoxin/toxin binders has been available in China since 2011.
Amlan International develops and markets disease management solutions for the animal health and nutrition global livestock market.