Alltech announces sustainable pig production and feed seminar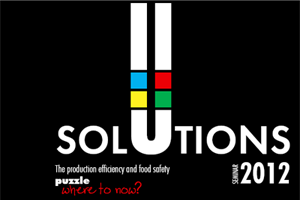 Alltech's Pig Solutions Seminar 2012 will take place this November in Hanover, Germany, in conjunction with EuroTier, and will focus on sustainable pig production.
Global feed prices continue to soar and pig producers on all continents are feeling the strain. Many have expressed fears and some have requested government action to tackle the unsustainable cost to their business. Alltech's Pig Solutions Seminar , "The production efficiency and food safety puzzle – where to now?" will take place on the 12th of November 2012 in the Copthorne Hotel, Hannover, Germany. Here this issue will be addressed while eminent figures in the pig industry will discuss the added cost of new food safety initiatives.
"Food safety is paramount in the agriculture industry. With continually increasing demand on global food supplies it is critical that the industry adopt scientific standards for traceability and safety," said Jules Taylor-Pickard, Alltech's solutions deployment team manager. "The best approaches involve prevention and adequate response and are continuous from farm to fork."
"This heightened feed cost is unsustainable for many pig farmers and has led to warnings from the UK's National pig Association of a shortage of bacon and pork next year," said Alltech vice president Patrick Charlton. "A separate meeting of pig industry leaders this year in London confirmed this, reporting that herds are being sold because supermarket prices are not rising fast enough to match rising feed costs. Something needs to be done."
A panel of renowned experts will present their views and participate in question and answer sessions on the following topics:
* Nutrition, Health and Immunity
Prof Denise Kelly, Head of Gut Immunology Group, Rowett Research Institute, UK
* Ca and P Nutrition in Pigs, where to now?
Prof Hans Stein, University of Illinois, Urbana-Champaign, USA
* New Frontiers in Programmed Nutrition
Dr Kate Jacques, Director of Nutrition, Alltech , USA
* Systems of Production – How do we produce the pig of the future?
Prof Michael Brumm, Brumm Swine Consultancy, Inc., Minnesota, USA
* Lifecycle Analysis – A roadmap for future pig production
Nigel Penlington, Environment Programme Manager, BPEX, UK
Chairperson: Jules Taylor-Pickard, Alltech Solutions Deployment Team Manager, Alltech
Related website:
Alltech