Alltech and Chinese universities – research alliances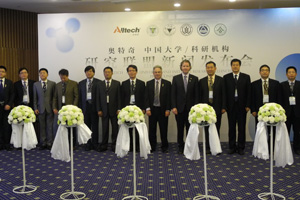 Alltech, animal health company, in conjunction with the top Chinese universities and academic research institutes has officially launched Alltech – Chinese University/Institute Research Alliances platform this October.
The launch happened during a press conference held in Beijing and through series of onsite signing ceremonies at the Institute of Quality Standard and Testing Technology for Agri-Products – Chinese Academy of Agricultural Sciences, Zhejiang University, South China Agricultural University,  Northwest A&F University and Jiangnan University.

As part of a 2011 survey conducted by Alltech, in cooperation with other parties, it was shown that China is now the largest feed market in the world. Alltech is putting unprecedented resources into China, including transferring one of its senior vice presidents and the son of the founder, Dr. Mark Lyons, to China in January 2012. Another senior vice president, Aidan Connolly, has visited China ten times this year in order to support Alltech's operations there.

"Issues such as mycotoxins, feed and food safety and the environmental impact of our industry are strongly present in China. Also, in times of the highest ever raw material prices in history, Chinese animal producers still need to be profitable by reducing feed costs and increasing animal performance. One of the biggest questions for China is how the country can improve the feed conversion rate and at the same time decrease the dependence on crop imports," said Dr. Mark Lyons, adding that "Alltech's investment of more than $2.5 million to the Chinese Research Alliances in the next five years clearly indicates our commitment to find sustainable solutions to these challenges together with some of the world's best universities."

"These Research Alliance projects will help Alltech bring solutions to our most important markets, solving real problems for the benefit of society and the industry. The impact of this will go beyond the borders of China as China today impacts all parts of the food and feed industries around the world," said Dr. Mark Lyons.

Alltech has been successfully collaborating with top academic institutions through research alliances in order to find long-term answers to the key issues facing the agricultural industry by using sound sciences and educating the next generation of scientist. "China is potentially the largest single market for Alltech and has attracted the best resources from the company. The Research Alliances platform thus becomes the first key program invested in by Alltech's Corporate Research Department to provide animal agriculture the combined resources of Alltech and the top academic research institutions in China," said Dr. Karl Dawson, chief scientific officer at Alltech.

The Research Alliances at each university will focus on specific key areas aiming to address emerging challenges to animal agriculture in China, for example:

•    Alltech – IQSTAP Feed Toxicology Research Alliance: Mycotoxin testing methodology development and application
•    Alltech – ZJU Animal Nutrition and Feed Science Research Alliance: New feed additive evaluation and solution development
•    Alltech – NWAFU Animal Science Research Alliance: Application of animal metabolic chamber in the control of green house gas emission
•    Alltech – SCAU Animal Nutrition Control Research Alliance: Nutrigenomics in yellow feather chicken
•    Alltech – JNU Food Research Alliance: Programmed Nutrition on the regulation of meat quality

The Research Alliance will be run by the joint (Alltech/ University/Institute) Management Committee, responsible for the programmes preparation, justification, monitoring and outcome review. This strategic long-term partnership will be critical for the consistency of future scientific studies, and will be the basis for successful breakthrough in scientific research. These alliances will be the catalyst for future advances in agricultural technologies.

"Alltech's University Research Alliances is a fantastic opportunity to promote research collaboration. I really think this will benefit both the universities and the Alltech enormously. More importantly, it will provide an excellent opportunity for the education of future generations," said Dr. Youling Xiong, Professor, University of Kentucky, Department of Animal and Food Sciences.

"I am delighted that we have such great alliance between the Northwest Agriculture University and Alltech as well as the other universities. From the Research Alliance, we will have access to advanced technology and research on nutrition and animal science, in order to promote animal production and the food industry. Also, through Alltech's research programmes we will be able to educate students, both postgraduates and undergraduates in pursuing their future career," said Dr. Jun Luo, professor of the College of Animal Science and Technology, Northwest A&F University.