A pig producer who'd rather play golf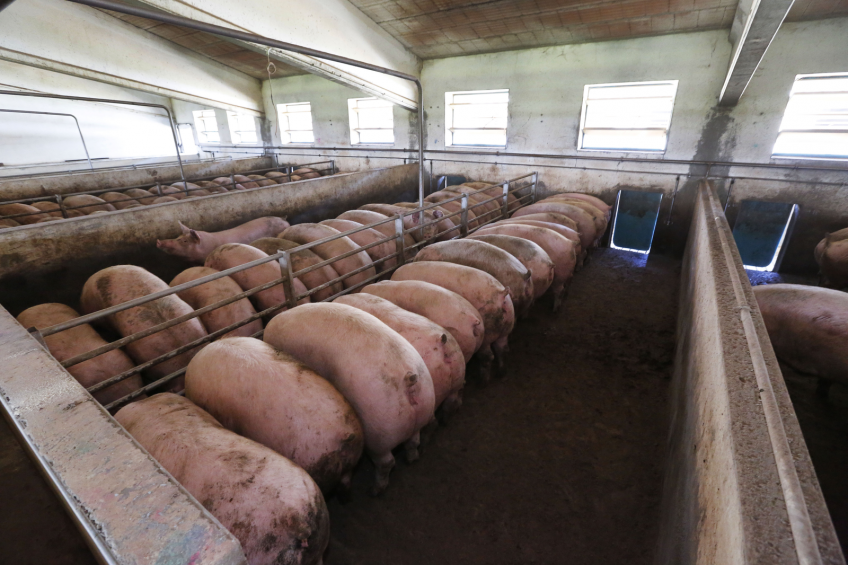 Good production results, no debt whatsoever and with promising investments in solar panels. Sbarra farm in northern Italy sounds like it has all it takes to face the future. Its owner, however, still has doubts whether to go there.
Matteo Sbarra's shirt prominently reveals the word 'farmer'. It's difficult to call him a proud one though. Despite having a beautiful farm, which he inherited in 2015 together with his sister Laura, he would rather shut op shop sooner rather than later. Without hesitation he says, "I'd like to become a professional golf player."
His comment is not related to any financial problems. On the contrary, his farm is a modern one, completely up-to-date and free from debts. Despite low prices, in mid-2016, he is still making profit. It's just that he's not enjoying pig production as much – which in itself might be called remarkable, considering the fact that he is the son of Piero Emilio Sbarra. His father was both a veterinarian and pig producer, and as such he used to be chairman of Italy's National Association for Swine Producers (ANAS) between 2000 and 2013.
Sbarra junior, age 40, says, "I just don't really feel like being into pigs. They smell, there's not enough profitability and it's only because of the Parma ham that there is still pig production in the Po Valley. For me, that is an unstable basis. We cannot sell the rest of the meat in a cost covering way. In Denmark, Germany or the Netherlands, producers can do that much better. Should there be a buyer offering about €7 million, then I'll hand over the barn keys in an instant."
Matteo Sbarra, owner of Sbarra finishing farm, Italy. Photo Henk Riswick
Unsaleable farm
For that €7 million – and perhaps for less – a buyer would get about 200 ha of land and roughly 12,000 finishing places, near a town called Ceresara, Lombardy region. This includes the animals plus a feed mill and spacious grains storage. It sounds like a bargain, considering that the price per ha in the area is around €44,000. Sbarra says, "30% of the farm is owned by me and my sister; the other 70% is owned by two steel barons. Our share is worth just under €7 million. In fact, however, in its current form it is impossible to sell."
For Sbarra, the only option is to carry on. He is, however, winding down. At the moment, he has contracted another farm with 850 sows at about 3 km distance. From the outside they might not be the newest, but inside the set-up is modern and well thought-through. Nowhere is there any maintenance backlog to be seen.
Sbarra delivers feed and medicine, the owner's input is the housing, the sows and all labour. Piglets are weaned at 28 days, when they are 8 kg on average, for which the contract breeder receives €16 each, at 26 weaned piglets per sow per year. To put things into perspective: top breeders in Italy reach 28.
Well organised: an infirmary for sick pigs with small pens that are partially in open air. Photo Henk Riswick
This contract will end at the beginning of 2017, as another finishing farmer was happy to pay more. Sbarra is OK with this, saying, "It's too much of a fuss anyway; I'll get piglets through the cooperation. That will cost me another €75,000 every year, but most probably it will give me better quality piglets as I will switch to Danish genetics. The €75,000 will have to be earned back through finishing by a higher average daily gain, so more finisher pigs delivered or a lower feed consumption."
On his own farm, the finisher pig producer will have to move his pigs twice. The weaned piglets arrive in pens keeping 13 animals in departments containing 200 to 400 piglets. The pens have plastic floors with a closed element. Initially, the piglets receive liquid feed in long troughs – a system which is used for all types of pigs. The pigs have a space of 0.4 m2 per animal.