A next step for PLF: Cough detection in pig houses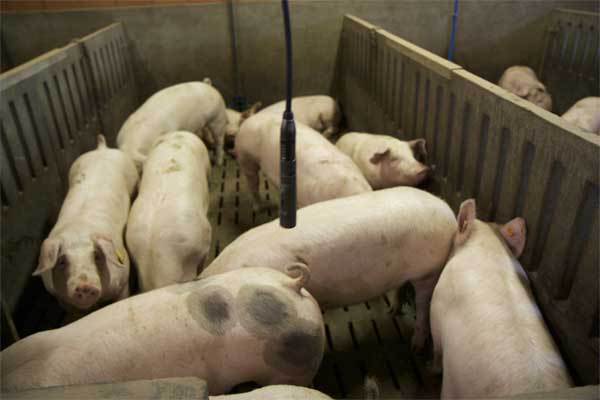 For years, experiments, trials and research have been conducted to turn Precision Livestock Farming into a success. The concept is about to achieve a major breakthrough at the upcoming EuroTier as sound checking for pig health is being presented.
What was it again – Precision Livestock Farming (PLF)? It's the approach to monitor pigs, poultry or cattle at an individual level by using video, audio or sensor technologies and subsequently use advanced computing systems to interpret these data and draw conclusions. Algorithms (when A, then B) form an important part of the strategy. The computer systems ought to be able to recognise patterns that deviate from a standard model – and take action.

A good and early example of this technology was the Eyescan, a concept introduced by Netherlands-based livestock management systems company Fancom, in the spring of 2010. In this system, cameras constantly record the size of the finishing pigs below. Using these data, a computer system using algorithms, can determine the weight of the animal. The next steps of the application of this technology, however, now focus on animal health and welfare, as both contribute to good animal performance.

Fancom, closely involved with Precision Livestock Farming researchat the University of Leuven, Belgium, is again part of this project, called the Pig Cough Monitor. Manufactured in cooperation with Soundtalks, a Belgian company, Fancom will launch the concept at EuroTier 2012, held in Hanover, Germany, this November. The concept is the same as the Eyescan, the input and output, however are different.

Coughing sounds are the data which will be collected, by using several microphones in the pig house, attached to the ceiling. Output in this system is aimed to be a good overview of where the main respiratory disease problems are located in a pig farm. The system, which sends out an alarm when it suspects a disease, is aimed at helping farmers identify disease quicker and save usage of antibiotics. Veterinarians can benefit when trying to find respiratory disease by remotely observing the health status of clients. Even a strategy on higher levels could be considered,  when regional or national bodies would like to get an overview of the respiratory disease status in a country.

Questions
As for the practical applications, many questions had to be answered in order to reach a fail proof system, Dr Wilm Decré, CTO Soundtalks explained at a seminar about this theme, early September, at Ghent University, Belgium. The sound identification proved a challenging problem to crack, he said. How would it be possible for a computer system to distinguish general pig sounds from other sounds, like creaking doors, human speech, and ventilation noises? And one step further:

Would it possible to distinguish pig cough sounds from other pig sounds? And even then, the computer system needs to be able to distinguish between coughs due to pollution (non- productive coughs) and those due to infection (when both productive and non-productive coughs can occur).

In order to allow a computer system to pick the right sounds, a classification algorithm based on time and frequency features was developed, see Figure 1. By analysing these features and comparing them to human observation, it was possible to further optimise the algorithm. Pigs were even inoculated with Pasteurella multocida in order to create productive coughs and to be able to better analyse the specific time and frequency patterns. Another matter for the researchers was whether it was possible to localise the origin of the cough sounds, i.e. where in the pig house or in what compartment?

They solved it by applying several microphones throughout a pig house, see Figure 2. Based on distances with respect to the different microphones, a sick pig can be localised. Other questions remained, e.g. does the equipment work in farm circumstances? How does the system cope with unwanted situations of lightning, heat, rodents, ammonia-related corrosion, dust or over-curious pigs? Decré mentioned that during the trials one microphone even went 'missing'. All problems, however, have been extensively tried and tested in various practical situations throughout Europe in 2012.

Breakthrough
It is expected that the presentation of this monitor is only a next step in the development towards a far more encompassing monitoring system of animal health and welfare. That too was an important message of the same seminar at Ghent University, in September. All developments should culminate into the introduction of a socalled Pig Welfare Monitor – a broad swine monitoring model based on the Precision Livestock Farming principles, in which the Pig Cough Monitor is just one of many.

So what else could be included? At the seminar in Ghent, professor Daniel Berckmans (University of Leuven) and PhD student Amin Kashiha lifted the tip of the veil by introducing another PLF concept, one that is still under construction – to correctly assess water usage by finishing pigs by monitoring their presence near the water nipple by camera. Since the exact amount of water usage can be measured at the nipple as well, it is possible to compare the computer's prediction with the actual use. At the moment, the camera achieves an accuracy of over 90% on the basis of video footage only is achieved.

Additional possibilities using camera techniques are already under construction, not only in swine production. Examples of these include lameness detection by camera (a PLF method currently developed for cattle production) or temperature checking by camera (a PLF method developed for the poultry industry). Last year, PigProgress reported on camera-based monitoring and identification of aggression – an EU funded PLF project that is also ongoing.

More than in individual monitoring, the strength of the system grows with every application. Every time a new set of data on the pigs' health and welfare can be obtained by using camera and a set of microphones, its value grows as well.

Professor Berckmans is very much aware that the total concept may also prove to be the Achilles heel of the system. After all, he says, PLF was designed to create a better livestock sector, where attention on individual animals can be regained. He clarified that the system should not to be seen as an opportunity for swine producers to completely rely on computer monitoring and also not to consider the animals as robots or just a number.

It is hoped that by the end of 2014, the Pig Welfare Monitor will be introduced into the market. This concept should by then also include the water monitoring technique. For the short term, the Pig Cough Monitor will be given attention. After the launch at EuroTier, Fancom aims to have the system installed in about 100 different farms within Europe by the end of 2013. PP

EuroTier will be held in Hanover, Germany, through November 13-16. More information on the show can be found on pages 30 through 32.