9th SafePork conference held in June – sponsored by Pig Progress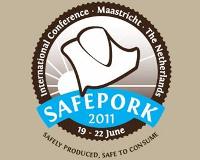 The city of Maastricht, the Netherlands will host the 9th edition of SafePork, from June 19-22. Pig Progress is proud to be a media sponsor for the event.
At the event, fully named 'international conference on the epidemiology and control of biological, chemical an physical hazards in pigs and pork', over 200 scientists and representatives of authorities and the industry from all over the world meet to discuss the latest developments in safe pork production.
Topics
Presentations are all given in English and themes are grouped around ten topics – four on Monday, June 20, four on Tuesday, June 21 and two on Wednesday, June 22.
Since production and management decisions at feeding and breeding levels have their impact on pork quality, it was logical that over the years the scope of the SafePork conference has broadened and covers the entire pork production chain 'from feed to food'
Among the topics discussed, both Salmonella epidemiology and antimicrobial resistance of course take an important place – Methycillin Resistant Staphylococcus aureus (MRSA) for that reason is a well covered subject. A quick overview of the topics discussed can be found below – click here for the full SafePork programme.
Venue
Venue of the conference is La Bonbonnière, a atmospheric location which used to be a theatre in the city of Maastricht. There is a possibility to attend in a range of pre conference meetings, post conference tours and social events.
The event is organised by animal science and veterinary professionals from top institutes and companies in the Netherlands, like Wageningen University, Utrecht University, the Dutch Animal Health Service and Vion Food Group. Partners include Intervet/Schering-Plough and the US Pork Checkoff as well.
The previous editions of SafePork were held in Verona, Italy (2007) and Québec City, Canada (2009).
Registration for SafePork is still possible.
Scientific programme at a glance:
Monday, June 20:
· Modernisation of meat inspection
· Epidemiology and control of bacterial pathogens I
· Pathogenesis and molecular epidemiology
· Detection
Tuesday, June 21:
· Antibiotic resistance, in particular MRSA
· Epidemiology and control of bacterial pathogens II
· Ways to reduce the use of antimicrobials
· Miscellaneous
Wednesday, June 22:
· Risk assessment/ Public health
· Control of antimicrobial use
Related websites:
• SafePork
• Wageningen University
• Animal Health Service
• Utrecht University
• Vion Food Group
• Pork Checkoff
• Intervet/Schering-Plough