5 interesting insights about pigs in Germany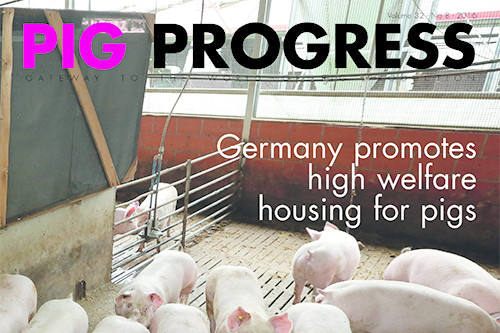 The latest issue of Pig Progress has a distinct German air about it. And not without a reason, as the world's largest trade show on animal husbandry, EuroTier 2016, is coming up. Ahead of the crowds in Hanover, we took a look into Germany's pig industry.
In five different articles, Pig Progress zooms in on what is going to become the largest-ever edition of the trade show.
1: Animal friendly finisher production
For one, the emphasis on animal friendly pig production has been growing of late in Germany. This has led to an increased interest in the use of so-called PigPorts, a finisher pig house which comes with an outdoor area and the use of straw.
Visitors of EuroTier will notice that various companies will offer this type of building as a novelty at the show. Kees van Dooren, reporter for Boerderij, the Dutch-language sister title to Pig Progress visited an already existing facility and learnt on the spot the ins and outs. Page 28
2: A giant merger in animal health
Another interesting read: German-based animal health company Boehringer Ingelheim is in the process of getting a merger with French-based Merial approved. Reason for World Poultry editor Fabian Brockötter and Pig Progress editor Vincent ter Beek to travel to Ingelheim to find out some more.
Worth a read, I'd say. Dr Joachim Hasenmaier also gives his vision for the future of meat production. Page 20
3: One of Europe's pig powerhouses
For years, Germany has been one of the larger countries in Europe when it comes down to pig production and consumption. Enormously strong growth has levelled off in recent years, nevertheless. Are low prices, environmental legislation and animal welfare demands taking their toll?
In an informative overview, Hans-Wilhelm Windhorst, emeritus professor at the University of Vechta, Germany, shares his latest insights. Page 16
4: Pig washing pays off in Germany
Pig washing? Seriously? Definitely, especially after weaning it has several advantages just to take a hose and spray the pigs. In Germany they do it and it's not only to cool them down in summer! Page 26
5: Innovations, innovations
Traditionally, EuroTier is a show where many companies aim to release their latest innovations. Pig Progress editor Vincent ter Beek travelled to Germany to meet up with some of the exhibiting companies, to learn a little bit about what visitors might see. Page 10
German livestock and equipment company have developed their ' Piggy Check' application. Photo: Meier-Brakenberg
Coconut oil a new option for controlling pig pathogens. Photo: Shutterstock
Enrichment for sows
OK – enough about EuroTier, what else is there to report on? Some welfare developments for instance. At Canada's Prairie Swine Centre, research is being conducted which enrichment material actually work best for sows: rope, straw, wood or chains? Researcher Victoria Kyeiwaa shares her progress. Page 8
Precision agriculture – but how?
Always wanted to have more data about what is going on inside a pig farm but you never knew how to gather them? An article by Brian Strobel, Osborne Industries, USA, might help you get inspired. Automatic weight collection, for instance, can help formulating very targeted feeding and nutrition management. Page 14
Feeding: Five-seeded plume poppy & coconuts
This month also attention for innovative feed additives from unexpected sources. Julia Schmitt and Valeria Artuso-Ponte, Phytobiotics, Germany, zoom in on the use of Sangrovit, a feed additive based on the five-seeded plume poppy. The result: not only fewer Salmonella but also fewer stress in pigs. Page 32
Coconut oil forms the basis of Dicosan, a feed additive supplied by Norel, Spain. Monica Puyalto, Cinta Sol and Juan José Mallo share some latest insights how this tool can help control pig pathogens. Page 35
Proper pig nutrition matters
Many diseases begin in the gut, can be read in an excellent article by Devendra Verma. Knowing what exactly is going on inside a pigs' gastro-intestinal tract, is a first step to controlling it. Page 42
And one can't start early enough with proper feeding, preferably before weaning, as can be read in the article by Nestor Gutierrez and István Bessenyei, Trouw Nutrition. Their article zooms in on the benefits of supplemental feeding in the farrowing unit and how this has effects to much later in life. Page 39
Colostrum & pig health?
Even earlier in the process there are also chances for improving pig health: just after birth, when obtaining colostrum is crucial. After all, when piglets drink enough colostrum, this can be a major factor to reduce piglet diarrhoea. It is a valuable management tool, next to vaccination programmes, write Petra Maass and Oliver Duran, Boehringer Ingelheim. Page 46
Columns on weaning and the future of feeding
Monthly and well-trusted columnist John Gadd dives into a very interesting topic: what actually is the ideal moment for weaning? Is there an ideal moment for weaning and if so, what makes it so? Page 24
Last but not least, columnist Dr Casey Bradley is optimistic about the future of swine production and she explains why. Page 50
For these and more articles see our digital section – Pig Progress 2016 – 8