Zhongpin focuses on more chilled meat sales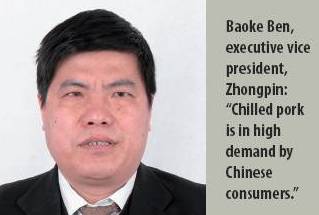 Zhongpin, China's number four pork processor grows by leveraging a vertically-integrated fresh meat and meat products supply chain from processing to retailing. Two new processing plants will be opened in China in the next 12 months. Baoke Ben, the company's executive vice president, provides details.
By Vincent ter Beek and Robert Vink
PP: Where does Zhongpin get most of its meat – imported/local?
Baoke Ben: "Zhongpin doesn't directly invest in pig production sites or hog farms. The company sources hogs from hog farms and major hog raisers across the country who have established long-term partnerships with Zhongpin. The company does not currently import any hogs or meat and so far only processes pork products."
©
PP: Zhongpin has specified quality breeding and feeding requirements for producers. What does Zhongpin's health policy look like for producers?
BB: "The company has built partnership with suppliers through providing feeds, piglets, medicines and technical support to up-stream suppliers. As such, reducing operation costs and protecting both sides' interest in the long run. Following government rules, the certificated veterinaries go to production sites to give vaccinations to pigs. When making purchases, the company will check closely the records and marks of the vaccinations."
©
PP: Is Zhongpin committed to the environment or animal welfare?
BB: "Most of our suppliers have environment or animal welfare programmes and Zhongpin's environment management system has obtained the ISO1400 certification. Environment programmes use excrement to produce marsh gas; in animal welfare programmes, suppliers continue improving the conditions and facilities of pig production sites."
©
PP: How did Zhongpin grow?
BB: "First the China meat market has provided us with huge room to grow. The pork demand in China exceeded 50 million metric tonnes per year. Second, the China meat processing industry is still fragmented and the top four processors, including Zhongpin, take a market share that is lower than 10% of the total market. Third, Zhongpin has been building its own industrial cluster, consolidating key supply chains. The company is also investing in training programmes to enhance the work force's efficiency and professional skills."
©
PP: What can you tell about the new processing plants in Tianjin City and in Changge, to be built this year?
BB: "The new facility in Tianjin City will add 100,000 metric tonnes in annual capacity of chilled and frozen pork, and 36,000 metric tonnes of low temperature prepared meat production capacity. The investment cost is estimated to be $62 million. […] The new prepared meat facility in Changge will add 36,000 metric tonnes production capacity with $21 million investment costs."
©
PP: How does Zhongpin see the future of meat markets in the next year?
BB: "We expect the global economy will bounce back and revive at the end of 2009 or early 2010 and pork demand in international markets will also improve. As the Chinese economy bottomed out earlier than other economies, the domestic demand for pork is under steady improvement. We expect the meat market in China will further expand in 2010 and Chinese consumers will have higher standards and stronger demand for quality meat products."
©
PP: What are the biggest challenges?
BB: "One of the biggest challenges is how to manage our rapid growth in China and overseas markets. The company has been doubling its sales each year requiring it to continuously improve its management infrastructure, staff training programmes, logistics systems and production efficiency. The company also works hard to help overseas investors to fully understand the market potential and investment opportunities in China's meat industry."
©
Zhongpin: A short bio
Zhongpin, founded in 1993 and having its headquarters in Henan province, calls itself a 'meat and food processing company that specialises in pork and pork products, and fruit and vegetables' in China. The company operates 12 processing plants, located in the provinces of Henan, Hebei, Jilin and Sichuan and in Tianjin City. Annual sales from chilled pork increased from US$17 million in 2004 to $289 million in 2008. For the first quarter of 2009, sales from chilled pork were $86.3 million. The company sells products to supermarket chains, McDonald's and KFC. Products are also exported to SE Asia and the EU.
©
Source: Pig Progress Volume 25 nr©5