WPX outlook: Drought, feed prices create uncertainty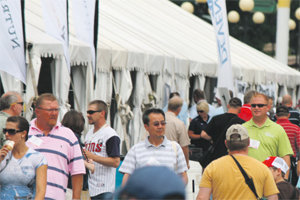 On the eve of the 2013 World Pork Expo, to be held 5-7 June in Des Moines, tight corn and soybean stocks for the United States are creating uncertainty in the US pig market. The US hopes for better pig and lower feed prices.
The aftermath of the 2012 drought, combined with the potential for delayed planting in many parts of the Corn Belt, have US pork producers unsure about the potential for profitability in the months ahead. "The biggest worry is over feed costs," said Chris Hurt, a Purdue University agricultural economist. Earlier this year, a dramatic downward movement in feed prices had not been expected until mid to late summer. By early April, however, prices had dropped about US$1 per
bushel (25.4 kg) and soybean meal prices about $30 per ton (900 kg). Estimated costs for farrow-to-finish production were near $70 per live hundredweight (45 kg) in the first quarter of 2013. "Now my cost estimates have fallen to $65.50 for the second quarter and $63 for the third quarter," Hurt said. Decreased costs are one way to reach break-even prices. "A return to break-even prices will be welcomed after drought-driven feed prices have resulted in losses of an estimated
$26 per head for the previous three quarters, including the last half of 2012 and the first quarter of this year," Hurt said.
Feed costs
Weather conditions during the 2013 growing season, and the size of the 2013 crop, are two key variables that will influence feed costs in the comingmonths. "There is not a large buffer of corn available to withstand weather or other production related problems for this year's crop," said Todd Davis, an economist for the American Farm Bureau Federation. If US yields do return to normal, it's likely that stocks would build and provide some cushion against
the next small crop," Hurt added. "If this were to occur, not only would feed prices drop, but there is a great chance that prices will stay low and less volatile for multiple years. This would be a favourable business environment for all animal
industries to move toward expansion," he said. The odds of normal US crop yields may be declining, however, as
unseasonably cold temperatures persisted into early May and created planting challenges in many areas. Hurt said, "If
late planting or poor summer weather results in another below-normal production year in 2013, that could clearly
push up new-crop prices and maybe drive them up substantially."
Profitability
Higher live pig prices are another way to reach break-even prices. In the first quarter of 2013 these prices averaged
near $62 per hundredweight. Prices were expected to rise to the mid-$60s for the second and third quarters this year. If so, second-quarter prices would cover all costs of production, and a modest profit of $8 per head would  unfold in the third quarter. Hurt said that beginning early this fall, total costs of production could drop under $60 for the first time since 2011.
Prospects for pork industry profitability could remain favourable through the summer of 2014, but confidence in this more favourable outlook is still 'skating on thin ice', Hurt said. Concerns over a decline in US pork exports remain. "Japan, our largest pork buyer, has recently announced a major move by their central bank toward quantitative easing that will
depress the buying power of the yen relative to the dollar," Hurt noted. "This will make it more costly for Japanese consumers to buy US pork."