World Pork Expo offers range of three tours prior to show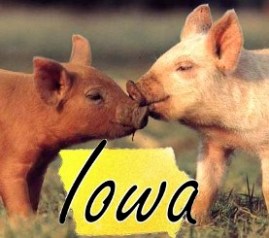 The US National Pork Producers Council (NPPC) has announced it will offer three tours for people who want to experience agriculture in the Mid West of the USA before the World Pork Exp opens on June 8.
Pork producers from throughout the world can choose from a two-day tour highlighting livestock, crops and agribusinesses, as well as two one-day excursions featuring different agricultural destinations closer to Des Moines.
"Our goal is to enable Expo attendees to experience the diversity and importance of agriculture to Iowa, to the United States and to the world," says Bryan Humphreys, director of grassroots organisation, LEADR, for NPPC. "Tour participants will have access to farm managers and agribusiness experts as they get to know fellow producers. And, once the tours are completed, they all will enjoy free admission to World Pork Expo."
Showcasing Midwestern agriculture
On June 6-7, the Midwest Agriculture Highlights Tour will take participants to see the locks-and-dam system that enables agricultural products to traverse the Mississippi River, a local soybean farm, and the John Deere Pavilion agricultural museum. By popular demand, the group also will visit Cinnamon Ridge Farms, which feature 4,000 acres of corn and soybeans, wean-to-finish swine facilities, a beef operation and a dairy.
"At Cinnamon Ridge Farms, participants will be able to see the inside of the hog building through a specially designed viewing room," says Humphreys. "It allows visitors to observe modern production without compromising the farm's security measures."
Monday evening will feature a special dinner with area farmers and pork producers.
Ond-day tours
There are also two one-day tours are available. On Monday, June 6, Iowa Agriculture Tour participants will go to a Christensen Farms feed mill as well as one of the Midwest's largest food-distribution companies. Two stops at Iowa State University will include the newly remodeled College of Veterinary Medicine and the Meat Laboratory, a federally inspected facility that is set up for complete processing of meat animals and poultry.
The Tuesday-only Iowa Agribusiness Tour features stops at Swine Genetics International's boar-reproduction facility, Kemin industries, a nutritional ingredient manufacturer, and Pioneer Hi-Bred, the world's leading developer and supplier of advanced plant genetics.
Reserving a seat
All three tours begin and end in Des Moines, and include bus transportation. Registration for the two-day Midwest Agriculture Highlights Tour, which includes four meals and hotel accommodations on Monday evening, is $300 per person.
Individuals can participate in either the Iowa Agriculture Tour or the Iowa Agribusiness Tour for $125 per person, or enjoy both one-day tours for a total price of $200. Each of these tours includes a midday meal.
To register for any of these tours, which includes free admission to World Pork Expo, contact Humphreys at humphreysb@nppc.org or +1 515 864 7980.
All information related to the agriculture tours can also be found online.
Show
World Pork Expo takes place June 8-10 at the Iowa State Fairgrounds in Des Moines. More than 450 commercial exhibits will be on display.
Pig Progress shall also be present at the World Pork Expo. Follow us at Twitter to keep fully updated at @pigprogress.
Related websites:
• NPPC
• World Pork Expo
• Kemin Industries
• Christensen Farms