World Pork Expo kicks off: how to survive?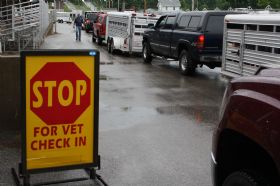 The annual pig production exposition, World Pork Expo, will kick off on Wednesday in Des Moines, Iowa, USA. Despite the economic crisis, hopes are high for a good show, Pig Progress editor Vincent ter Beek found out.
Exhibitor numbers did not fall in comparison to the 2008 show, said John Wrigley, general manager, World Pork Expo. This year, just over 400 exhibitors will be present in Des Moines' Iowa State Fairgrounds, divided over approximately 900 booths.
Hopes are that the number of professional visitors will also be the same, Wrigley said. "Especially now, producers are looking for ways to improve efficiency. We try to create the pleasant atmosphere in which producers and exhibitors can get together."
Change
The biggest change for this year's show is the change of days, Wrigley explained. For the first time, the three-day show starts on a Wednesday instead of on a Thursday. This way producers are still able to enjoy a full weekend – and so is everybody else," he added. "Exhibitors surely like it. We are excited to see what happens this Friday."
Seminars and innovations
Apart from new dates, the show will be the platform for educational seminars and the launch of several innovations, e.g. in transportation trucks, said Doug Fricke, director of trade show marketing for the National Pork Producers Council (NPPC).
"We also see an increased number of exhibitors relating to different types of energy, e.g. in the gas market. These weren't here before," Fricke added.
Tuesday was mainly used for many companies to build up their booths and for junior pig growers to bring in the over 2,000 pigs that will be presented at the show.
For a full programme of the World Pork Expo, click here.
Related websites:
World Pork Expo
National Pork Producers Council©(NPPC)