World Pork Expo kicking off soon in Des Moines, Iowa (Watch Video)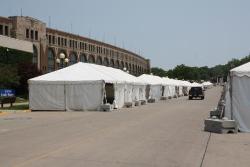 Hospitality tents have been set up, barbecues are ready for the meat to be prepared (see image left) and in the Varied Industries Building, last finetuning is happening – Des Moines is getting ready for the 2011 edition of the World Pork Expo, to be held 8-10 June.
This year's edition, held as always at the Iowa State Fairgrounds, promises to become one of the better issues – with great advance bookings figures and a record attendance in this year's Junior National pig show.
Nearly 20,000 pork producers and industry experts from more than 30 countries have pre-registered to attend the show, organised by the US National Pork Producers Council (NPPC). The expo offers the latest information about pork marketing and management, legislative updates, animal health, environmental topics, and other issues affecting pork production.
"Producers throughout the world come to World Pork Expo for one reason: to see state-of-the-art pork production and technology," said Doug Wolf, NPPC president. "It's a chance to hear experts present the latest information, then talk with them face-to-face. And you can experience first-hand the new products that are on display, both indoors and out."
From the more than 450 commercial exhibits to the business seminars and a new product tour, there's plenty for busy pork producers, their employees and families to learn and do.
Symposium programme
A large symposium programme has been set up and will be conducted. Seminars in the Pork Academy range are held on June 8-9 and spponsored by the National Pork Board; the full programme can be found at the WPX website.
Its educational topics range from the latest about PRRS, to managing feed costs and efficiencies while putting US pork on the world's table.
Business seminars
Manure digester systems — real-world case studies, what's important to consider and resources that are available — are the focus of Thursday morning's seminar sponsored by AgSTAR. The speakers include Jerry Foster, Cargill Pork; Norma McDonald, Organic Waste Systems; Shannon Chase, US Department of Agriculture; and Allison Costa, AgSTAR.
Wednesday afternoon, sponsor TechMix is using a 'training camp' theme to discuss preparing pigs for optimal performance. Paul Rhoads, Iowa State University head football coach, joins these speakers for the seminar: Dr. Steve Patterson, Northeast Veterinary Service, Shelbina; Dr Mark Bertram, First Choice Livestock; Bob Lantz, Chr Hansen Animal Health & Nutrition; and Todd Rasmussen and Brent Ratliff, Techmix.
Cargill begins its Thursday afternoon seminar with a discussion about managing ingredient adversity in a volatile world by nutritionists Dr Kevin Touchette and Dr Ken Mooney. Then, Matt Leininger and Terry Mahoney will talk about proactively managing market exposure and strategies for reducing capital needs.
The effects of PCV2 on finishing pig growth performance, and options for PCV2 and Mhp vaccination headline the business seminar sponsored by Intervet/Schering-Plough Animal Health. Veterinarians Dr Brad Thacker, Dr Charlie Francisco and Dr Rich Schlueter from Intervet/Schering-Plough will present this information on Wednesday morning.
On both days, CME Group is sponsoring presentations on risk management for pork producers. Thomas Clark from CME Group will discuss trading tools, hedging and how to develop a marketing plan.
A detailed overview of the business seminars can be found on the WPX website.
Among the more prominent visitors at the expo will be Han Duk-soo, Korean ambassador to the United States. He will speak during the Strategic Investment Program (SIP) luncheon on Thursday, June 9.
Entertainment
World Pork Expo wouldn't be a success without a great deal of entertainment as well – therefore a MusicFest will be held on Thursday, June 9, with bands like Highway 101, Papa Doo Run Run and an encore performance by Tony Valdez & the Retro Rockets. In addition, there is the Junior National pig show, pig racing, a breed show, open golf outing and the Big Grill.
In short – all looks pretty positive for this year's edition – only the weather may be a little bit disadvantageous, as there are three days of rain predicted…
On Thursday morning Iowa time, Pig Progress shall keep our newsletter subscribers updated with the latest news from the Expo by sending out a special live newsletter from the show.
CLICK ON VIDEO BELOW TO WATCH
Follow Pig Progress at @PigProgress on Twitter – or like us at Facebook.
Related websites:
• World Pork Expo
• US National Pork Producers Council (NPPC)
• National Pork Board
• Intervet/ Schering-Plough Animal Health
• Cargill
• United States Department of Agriculture (USDA)