World Pork Expo: join pork professionals in Des Moines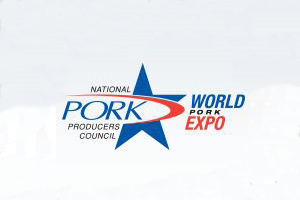 Approximately 20,000 pork producers and other professionals from 32 countries will attend World Pork Expo, June 4-6, at the Iowa State Fairgrounds in Des Moines, Iowa. Presented by the National Pork Producers Council (NPPC), Expo features the world's largest pork-specific trade show with some 375 commercial exhibits in more than 310,000 square feet of indoor and outdoor exhibit space.
The trade show will display the latest products, services and technologies available to pork producers from 8 a.m. to 5 p.m. on Wednesday, June 4, and Thursday, June 5, as well as from 8 a.m. to 1 p.m. on Friday, June 7. The Agriculture Building will mark its second year of exhibits, featuring the America's Best Genetics display and the International Visitors Center.
New this year is the World Pork Expo Universe Passport — a programme that offers a daily chance to win $500. Expo-goers can pick up a passport in the registration area, located in the Animal Learning Center.
"As attendees travel around World Pork Expo, they can get their passports stamped at the booths of participating companies," says Alicia Newman, World Pork Expo general manager. "Then they can bring their completed passports to the NPPC booth in the Agriculture Building, get a prize and be entered into the daily drawing."
Expo is the place to gather useful information on a wide range of topics from manure handling or exports, to sow-herd management and swine health. Throughout Wednesday and Thursday, a series of business seminars and PORK Academy will present more than 15 free, educational seminars, all of which will take place in the Varied Industries Building. Pork producers, their employees and families are sure to find helpful insights to take back home.
On Thursday, NPPC, Hog Slat and Vinny's BBQ will collaborate to set another record for the world's largest pork burger (previously set at the 2012 World Pork Expo). Expo-goers can watch the assembly of this mammoth burger at 5 p.m. and try a sample. A significant portion of the burger will be donated to Youth Emergency Services & Shelter in Des Moines.
Mouth-watering pork is a vital part of Expo, including the ever-popular Big Grill. Located next to the Agriculture Building, attendees can enjoy a free pork lunch from 11 a.m. to 1 p.m. all three days of Expo.