World Pork Expo about to start in Des Moines, Iowa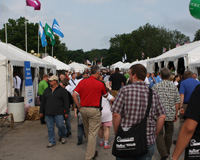 World Pork Expo, the annual trade pig and pork trade show in the United States, is about to open its doors at the Iowa State Fairgrounds in Des Moines, Iowa, United States.
The event, to be held 6-8 June, presents the pork industry's newest technologies, business seminars and breeding stock. It is expected that nearly 20,000 people will attend this year's edition, organised by the US National Pork Producers Council (NPPC).
Particularly interesting will be a number of Pork Academy Seminars. Right at the start is a presentation by Lynn Becker (pork producer), Sherrie Niekamp and Cindy Cunningham (both National Pork Board), titled 'Doing what's right vs looking for the camera'. One of the issues dealt in this session will be what to do if confronted with an undercover video on farm.
Several presentation will focus on well-known diseases like Porcine Reproductive and Respiratory Syndrome (PRRS) and Foot-and-Mouth Disease (FMD), with comments from well-known industry expert veterinarians like Dr Jim McKean, Butch Baker and Dermot Hayes.
The full programme can be found here.
Business seminars will also be held on Wednesday and Thursday. Here is an opportunity to visit sessions sponsored by e.g. Merck Animal Health (Group medication, vaccination, deworming), Land O'Lakes Purina (Feeding for 30) and Cargill. The total programme of the
Business seminars can be found here
.
The Expo trade show is open from 8 am to 5 pm on Wednesday, 6 June, and Thursday, 7 June, as well as from 8 am to 1 pm on Friday, 8 June. The breeding stock sales will continue on Saturday, 9 June, from 8 a.m. until they're completed (at approximately noon).
Once again, MusicFest will be the social highlight of World Pork Expo. From 4.30 pm to 8 pm on Thursday, Expo attendees can enjoy free roasted pork and refreshments while listening to music performed by live bands.