Wireless sow feeding in the farrowing room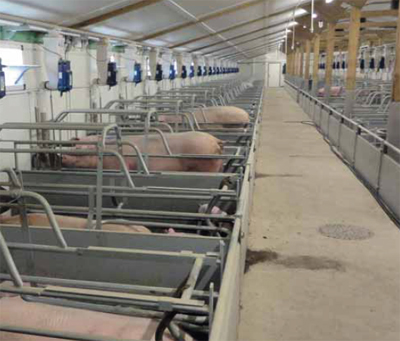 Dry sows these days can be tracked and traced very well. Whether they are in groups or in stalls, it does not matter, as data about their behaviour and feeding patterns are available. But how is this with lactating sows? Using a computerised approach in the farrowing barn is quickly catching on, as this UK example shows.
It's not that long ago that pig farmers relied on meetings, company mail shots, visits to other farms or simply word of mouth to keep abreast of new trends and new equipment. Not so these days. Thanks to Google we can get information from all over the world in seconds, plus English speakers are spoilt as English is the universal internet language.
What's this got to do with the humble pig? Let's take a look at the Hall family farm in a beautiful part of North Yorkshire, on the edge of the North York Moors National Park. The pig unit was being revamped in mid-2010, which involved building a new 100 place farrowing house, with local company A.M. Warkup winning the contract. In the old shed the lactating sows were fed by hand, a noisy and laborious task.
"This worked fine most of the year but during harvest when labour was stretched, feeding the milking sows suffered a bit and so we were keen to find an automatic system which naturally would do the job regardless of staffing pressures," comments David Hall, who runs the farm together with his brother Simon and his father John. They run a medium-sized sow farrow-to-finish farm with some arable land near the village of Thornton-le-Dale, and sell the pigs at about 85 kg deadweight. The Hall family was not keen on the systems that he had seen locally and so used the internet to find out what was on the market internationally. After much research they found Jyga Technologies, an equipment company based in Québec, Canada.
The company sells the Gestal FM – a computerised wireless system for feeding lactating sows. Inspired by an earlier system for dairy cows, it was implemented in the company's own 2,100 sow R&D unit. The company exhibited the system at the 2009 SPACE show in Rennes, France, gaining a two-star Innov'Space award for its technology. The same feeder was awarded the prestigious Frank Aherne Prize for Innova-tive Pork Production at the 2010 Banff Pork Seminar, Canada and has received numerous other producer commendations.Thanks to the web, the Hall brothers were able to talk in detail with the company and felt confident enough to be the first UK producer to install the feeders. "As it happened," adds David. "Warkup's were also well impressed with the system and are now the UK agents and keep a stock of spares, should there be any major problems, although it's very easy to go online to resolve any minor issues."
Other feed systems
The Hall brothers had looked at other feed systems but these had quite bulky feed dispensers plus these have to be adjusted manually. Their new feeders, however, take up very little room and this meant savings in space and hence cost as the house design incorporated the system at the planning stage. In addition, the lack of cable connections can be considered a bonus in any pig house.
Each sow's feed allocation is programmed in on the unit's computer and in fact if the Hall brothers have problems Jyga can access all the feed curves from Québec and give advice as to what to do. As with electronic dry sow feed systems, sows decide when to eat and how much to eat as opposed to a stockman deciding when and how much the sow should receive. For the Hall brothers, this has resulted in more even milk flow since installing the feeders, no doubt, because the sows get fed over a 12-hour period. In addition, the problem of mastitis has now disappeared.
Access to feed
The programme allows sows to access feed in four time periods, from 6-9am, 10am-1pm, 2-5pm and finally from 6-9pm, with the corresponding feed proportions being 30%, 25%, 25% and 20%.
To operate the feeder the sow pushes her snout up against an agitator collar located in the left hand corner of her trough which results in feed being released. Should a sow not be hungry then that meal is classed as being missed and is not carried over. A computer printout is run off daily at 9am allowing staff to check on feed intake and to make adjustments accordingly. There is naturally a comprehensive software package and a novel feature relates to the sow's feed intake curve.
This is overlaid in green, amber and red. If the curve is in the green sector all's well. If in amber things need checking and if in red then the sow has a serious feed intake problem. Because feed is dispensed four times/ day only, a relatively small feed hopper is needed, which fits neatly above the sow's head. The individual feed hoppers are topped up at 8am and then again at midday via a circulating feed line which is connected to the external bulk feed bin. In this Yorkshire case, the system is applied for a 100 sows – but it could be used for virtually all types of barns, with up to eight feeding periods and adjustable feed rations.
The Canadian company reports that its smallest customer has 60 sows while the largest has 150,000 sows. With breeding companies focusing on hyperprolific dam lines producing increasingly larger litters, feed intake during lactation is increasingly important to maintain sow condition and to get good weaning weights. It makes sense to spread the sow's daily feed over as long a time span as possible but manually feeding sows late in the evening interrupts normal work routines and is not popular with staff. An electronic alternative is the logical way forward and this feeding system does precisely that. PP