Wellhope – a feed fairytale in northern China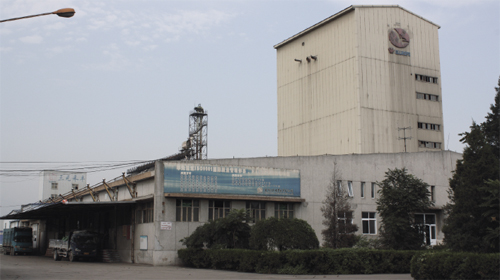 Although barely 15 years old, Chinese feed producer Wellhope, headquartered in Shenyang, northern China, is growing very rapidly to become one of the world's larger feed producers. Shapes of a poultry integration are coming into existence – and a virtual pig integration is being started up too.
The sign of Wellhope, to be seen on any of its feed mills, is complex in its simplicity. Two flying birds, together forming a 'W'. The flying birds, however, also intend to convey an idea of elevation – flying high to oversee the current feed market in China and that of the decades to come in the country's livestock industry.
A little bit of long-term vision is what is needed when embarking on a mission to conquer a large part of the Chinese feed market. Developments are huge and rapid – and size, progress and dynamics are very hard to overestimate. Jan Cortenbach, chief technical officer at Wellhope, says that within seven years, Wellhope increased its feed production tonnage nearly ten-fold. From 250,000 tonnes in the year 2003, the company went to a mind-boggling 2.15 million tonnes of feed produced in 2010. Wellhope only started in 1995, as a joint project of seven ambitious young school friends starting out to make premixes from the city of Shenyang, in the agricultural northern Liaoning province. Within 15 years, the company, grew to consist of 49 feed mills, 47 of which are in China, one in North Korea and one in Nepal.
Range of companies
In addition to having become a serious player on the feed market, the company now owns an impressive range of companies closely related to agriculture: four animal drug factories, two machinery companies, eight trade companies in feed ingredients, two farm equipment companies (making pig and poultry housing, feeding, drinking and ventilation systems), seven poultry slaughterhouses, one pigment processing company, one fishmeal factory.
Hand in hand with Wellhope's rapid development was the joint venture with Dutch family-based feed producer De Heus, headquartered in the Netherlands. The family-owned business (1,200 employees) is one of the larger feed producers in the Netherlands and has adopted an international strategy since 2001, when the next generation of management acknowledged that remaining confined to the Dutch feed market would equal to being taken over by just another hungry feed giant. The company therefore looked abroad for partners to work with. In October 2006, De Heus entered into a joint venture with Wellhope, 'strengthening the competetive advantage' of both parties.
The Dutch company has a minority share; Cortenbach states that both parties profit from each other's know-how. "For instance, in the Netherlands, we have knowledge about feed formulation, and milling and mixing technologies. In addition, the Dutch know-how to manage a farm – this is often the biggest problem in China! When target figures are not met, producers often blame it on the quality of feed. But often it's the management."
In return, Wellhope has a lot to offer De Heus as well, Cortenbach says. "In China a lot of knowledge of sourcing different kinds of raw materials can be found, including the use of it – for instance rice bran. This is knowledge De Heus can transfer to its feed plants in Vietnam. In addition, the use of herbs and Chinese medicines for animals is useful knowledge in the search to find antibiotic replacers. Last but not least, Wellhope's company management involves thousands of kilometres, distances we don't know in the Netherlands. How do they manage?"
Longer term strategy
Wellhope's longer-term strategy is to become the number one feed company in the north east of China, with a gradual expansion to the country's south. In this process, the aim is for both pig and poultry integrations to be set up. This is in accordance with the policy of the Chinese authorities, striving for more transparency as during a recent clenbuterol contamination in meat it wasn't clear who was to blame. Having integrators implies that one company is responsible for the chain from farm to fork. So in the unlikely event of a production mistake, it is clear whose responsibility it is and no lengthy investigations into liability are needed.
In poultry, a Wellhope integration has already been partly established with the ownership of seven poultry slaughterhouses, supplied by poultry contract farmers. In addition, Wellhope owns one breeder farm and one hatchery for broilers, located in Kaifeng, Henan province; no layer facilities have been added yet. The company aims to add processing facilities, as well as develope stronger in own parent stock and hatcheries, aiming for 80,000 broiler parent stock.
It is logical that broilers are the first field of investment, says Cortenbach. "In pigs much more capital investment and risk is needed, as there are longer life cycles." No short term investments into pig integrations are planned, but ignoring the pig market isn't an option either, since 70% of total pig production is still carried out in backyard farming. Wellhope hopes to establish its market position by creating 'virtual integrations'.
Cortenbach explains: "In this model, every company will keep its own core business – for Wellhope this is the production of animal feed – but still, very clear agreements have been made. As a feed company, we will take care of the delivery of finishers to slaughterhouses and we will also guarantee the delivery of breeding sows to our customers; and that piglets will be transported to finisher units. This can be seen as a service of the feed supplier, against no or a minimal extra cost – in such a way that it creates an advantage for every party involved." (See Box: Wellhope-De Heus joins forces with MS Schippers)
Cortenbach says: "Currently, about ten pig producers have joined forces with us, all located in the neighbourhood of the one slaughterhouse we cooperate with. We would like to expand this number of slaughterhouses, which will make us much more flexible in the future when it comes down to service."
"In addition, we are not yet capable of delivering sufficient amounts of breeding pigs. At all levels in this virtual integration, growth has to be similar – or the number of players has to increase. The focus for us now is Liaoning province, but we will most probably expand, first to Jilin and Heilongjiang provinces." Both of these provinces are located in north eastern China as well.
Eventually, the aim should be for producers to produce 30 pigs per sow per year, "This means a complete system of tracking and tracing needs to be set up, so we can identify very rapidly and clearly where, when and by whom a mistake was made. In this virtual integration, everybody sticks to its own field of knowledge, and investments for farms stay at a minimal level," states
Cortenbach.
Longer term
Wellhope is ideally located to anticipate future growth, Cortenbach says. He expects a major part of future Chinese feed demand to be produced within the country itself. "There are absolutely chances for increasing yield of corn, wheat and soybean crops per hectare. First, privatisation of less efficient state operated companies will enhance this process. Next, the use of more sophisticated grains, e.g. specific varieties of corn for animal feed or silage corn, and genetically modified (GM) varieties." "I expect China to allow GM varieties, as the country mainly produces for human consumption. It is key to keep in mind that China would like to maintain its degree of self-sufficiency for human consumption and the use of GM cereals will play an important role in that. This will happen despite the coming into existence of certain rules around several areas."
"Around Beijing, for instance, no rice is being cultivated; and in northern areas, farmers can only harvest rice once per annum. Hence, this has been replaced by winter wheat and corn. In addition, water supplies will play an important role. Soybeans and corn are increasingly moving to the north – this will imply that animal feed production, and eventually meat production, will move to these areas. In short – Wellhope is located very strategically!"
Feed production in China
The Chinese government is rather keen on reducing the number of existing feed mills in order to enhance control over them. For that reason, larger feed companies like Wellhope are buying smaller feed mills and incorporating these in its system. Wellhope owns two feed mills in the direct vicinity of Beijing – one is modern (supplying feed in bags and bulk), the other is a former state dairy feed mill (supplying only bagged feed). Being able to sell feed in bags is still a prerogative for the Chinese market, to avoid feed from 'disappearing'. It is estimated that the total number of feed mills will dwindle from about 15,000 to about 4,000 in the coming years. Pig Progress visited one of the two Wellhope facilities around Beijing, converted from a state feed mill previously, producing 120,000 tonnes of cattle and other feed per year. For pictures of this visit, please go to
www.allaboutfeed.net
Wellhope – De Heus joins forces with MS Schippers

The Wellhope-De Heus combination recently closed a new joint-venture, focused on the enhancement of general hygiene on Chinese pig, poultry and dairy farms. In May 2011, MS Schippers, an international Netherlands-based livestock equipment company, signed a MOA with the Chinese-Dutch feed supplier, combining its experience in the professional livestock industry with feed company's sales infrastructure. The joint venture will become operational in October 2011. Jan Cortenbach, Wellhope-De Heus' chief technical officer, said that the goal is to supply livestock producers with a full package of feed, hygiene products, management and good animal breeding material: "At the moment, the emphasis is too much on selling only bags of feed. We think that with a targeted number of Schippers products we can help step up food safety, and help prevent diseases. Thus, our customers' technical results will improve and a better source of income is guaranteed for them. Better results will also result in increased feed sales levels – and we also hope to attract additional customers this way."
Wellhope
, key data in 2010
Headquarters: Shenyang, Yaoliang province
Sales: RMB 684 million (€73 million).
Sales volume: 2,150,000 tonnes
Main sources of income: Complete feed (58%); concentrates (39%); premixes (3%).
Targeted markets: Pigs (33.45%); layer birds (29.97%); broilers (23.11%); cattle (8.90%); aquaculture (4.10%); and foxes (0.38%).
Export markets: Vietnam, Iran, Russia, Korea and Nepal.