Weda's 'easy feeder' for mobile piglet feeding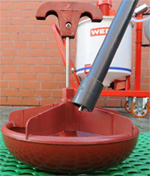 In piglet raising, the fundament for an optimal fattening and slaughtering performance is laid.
Already during the first days after birth, the energy and nutrient requirements of the suckling piglets – besides the milk of the sow – should be supplemented by the feeding out of small and frequent feed rations.
©
In order to provide the piglets in the farrowing pen with optimal nutrients, Weda Dammann & Westerkamp GmbH have developed the 'Easy Feeder' which is immediately available. With this mobile and smooth running feeding automat, manual feeding in the farrowing section becomes uncomplicated and laboursaving. Compared with customary manual feeding methods, half of the time can be saved.
©
The feeding container holds 100 litres and has to be filled with at least 10 litres. After the filling with prestarter, the agitators automatically mix the dosificated components in the container. A scale displays the filling level. The agitators and the pump, especially developed by Weda are switched separately from each other so that after the mixing is finished, only the pump will have to remain in operation.
©
The liquid feed is exactly dosificated by means of a lance. The dosification valve opens when the tip of the lance is slightly pressed against the trough. Depending on the flowability of the feed, the pump pressure at the container can be regulated infinitely variably. This prevents an uncontrolled splashing of feed from the feed containers. The viscosity of the liquid feed is guaranteed up to a dry substance content (DS) of 26 per cent.
©
For controlling the feed temperature, a thermometer is applied so that previously warmed-upfeed can again be controlled immediately before administration. The 'Easy Feeder' operates with a standard voltage of 230 Volt.
At the mobile construction, a cable reel with a retractor mechanism for the 25 m cable is situated. For security reasons, a 'locking hook' is applied which prevents tearing out of the plug from the socket.
©
The carriage is equipped with ball-bearing mounted lockable wheels. Due to the low balance point and the light construction manner, the Easy Feeder is tilt-resistant and easy to move. The rounded-off frame is robust and reliably prevents impact damages. Due to the ergonomic height of 1,100 mm, the innovation produced by WEDA is fast and easy to clean. On the outside, the container can be washed clean by means of a sponge and warm water. On the inside, it can easily be spray-washed by means of a hose-pipe.
©