Vietnam still under PRRS attack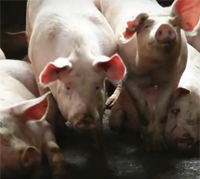 There have been reports of new outbreaks of Porcine reproductive and respiratory syndrome (PRRS) in the northern provinces of Vietnam. The provinces affected with the outbreak now are Bac Ninh and Lao Cai.
Currently the total number of provinces is six – Dien Bien, Yen Bai, Nam Dinh, Phu Tho, Lao Cai and Bac Ninh – according to Hoang Van Nam, head of Animal Health Department. He added that there is a risk that PRRS will continue to spread in the north.
Thus far, almost 50% of the 20 000 pigs found to have PRRS in the 6 provinces have been culled.
The reason cited as the cause the spread of the disease is the failure of the provinces to rapidly detect the PRRS and properly control the transport and slaughtering of infected pigs. Reports state that there is only 100,000 doses of the vaccine available currently, which is expected to be used up. Diep Kinh Ta, deputy minister, has urged the Animal Health Department to take effective measures to rapidly detect PRRS.
The deputy minister also wants localities to manage the transport and slaughtering of pigs in order to halt the transmission of the disease.