USA: optimism for 2010; hog inventories down 2%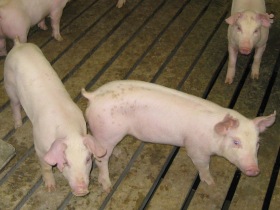 The US Department of Agriculture (USDA) said the national inventory of all hogs on December 1, 2009 was 65.8 million head, down 2% from both last year and September 1. Several experts and industry leaders have voiced moderately positive outlooks for 2010.
The US' main pig production state, Iowa, saw its population drop by 400,000 from September to 19.3 million. About a year ago, the state had 19.8 million hogs. Second-place North Carolina reported 9.7 million animals.
Intended farrowings
The USDA said US hog producers intend to have 2.95 million sows farrow during the December 2009-February 2010 quarter, down 2% from actual farrowings during the same period in 2009 and down 4% from 2008.
Intended farrowings for March-May 2010, at 2.94 million sows, are down 3% from 2009 and down 4% from 2008.
NPPC
Sam Carney, president-elect of the National Pork Producers Council (NPPC), said "I was hoping for about a 5% drop."
Carney and other pork industry leaders have been urging greater reduction in swine herds to bring production in line with demand. He noted that "with the futures price going into the $70 or more range next summer and with feed costs down, you can lock in some profits now."
Pig producers have suffered losses for two years because of high feed costs, a drop in exports and a reduction in demand caused by the pandemic influenza A (H1N1) virus scare earlier this year.
Purchasing pork
The Department of Agriculture has given hog producers some help by purchasing $162 million worth of surplus pork during the last year.
Economists have said the US needs to reduce its pig herd by as much as 10% for supply and demand to come into profitability for hog producers. A drop in wholesale prices of as much as 18% enabled retailers to offer discounts for hams during the festive season, which boosted sales.
Steve Meyer, president of Paragon Economics of Des Moines and an adviser to the NPPC, said greater reductions need to be made to herds to ensure profitability.
Purdue University
More positive sounds can be heard when listening to Purdue University Extension Economist Chris Hurt. He also expects US hog producers should break even in 2010 as both the average price received and the total cost of production are expected around $50 per hundredweight.
In a report, Hurt forecast first quarter live hog prices 'in the higher $40s per hundredweight' followed by 'the low $50s' in the second quarter, 'nearly $50' in the third quarter and 'in the mid-to-higher $40s' in the fourth quarter.
He put total costs of production, including feed, labour and full depreciation of buildings and equipment at $50 to $51 per hundredweight.
"The bottom line is that hog producers are not expected to go backwards financially in 2010," said Hurt.
Futures board
The US futures board also contains some optimism for hog producers. The February price on the Chicago Board of Trade was recently $65.20 per hundredweight and prices rising up to over $77 in June.
Related websites:
• Chicago Board of Trade
• Purdue University
• US Department of Agriculture (USDA)
• National Pork Producers Council (NPPC)