US-Vietnam trade agreement urged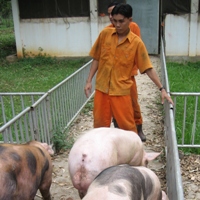 The agriculture coalition for US-Vietnam trade, chaired by the US National Pork Producers Council (NPPC), is urging lawmakers to approve permanent normal trade relations (PNTR) status for Vietnam.
US agriculture should benefit from the nation's accession to the World Trade Organization (WTO), the coalition felt and called for a vote on PNTR for Vietnam when Congress meets in November.
WTO
Vietnam finalised an agreement on market access with the US in May. This paved the way for the country to join the WTO – likely to happen soon.
Under the agreement, tariff rates for about 75% of US agricultural exports to Vietnam, including pork, will decline to WTO-bound duty rates of 15% or less.
Pork tariff decline
The tariffs on pork variety meats will decline from a rate of 20% to 8% in four years from the time of implementation. Tariffs on most other pork products will be reduced by 50% in five years.
Vietnam also improved its implementation of WTO rules on sanitary and phyto-sanitary measures and agreed to recognise the US inspection system for pork as equivalent to its own.
Increase
According to Iowa State University economist Dermot Hayes, the deal will increase US pork variety meat exports to Vietnam to $16.5 million by 2012 from $3 million in 2004 and will raise live pig prices by $0.52, or 4.4% of producer profits.
Providing normal trade status for Vietnam through periodic extensions has never been controversial. The US already provides PNTR to all of the 149 other WTO members.
Related websites: