US: NPPC applauds reauthorisation of price reporting legislation/ Vet bill passed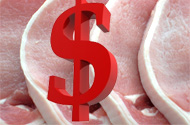 The National Pork Producers Council applauded the House for approving legislation to reauthorise the law requiring meat packers to report to the U.S. Department of Agriculture the prices they pay producers for animals.
The legislation, which previously was approved by the Senate, now goes to the president to be signed into law. It reauthorises for five years the Livestock Mandatory Reporting Act, which was set to expire Sept. 30, and includes new provisions requiring weekly reporting of pork exports – by price and volume – and of wholesale pork cuts.
©
NPPC applaud
"We applaud House passage of legislation reauthorising the mandatory price reporting law," said NPPC President Sam Carney, a pork producer from Adair, Iowa. "And the addition of export and wholesale cuts reporting will further help producers like me make business and production decisions.
©
"The Livestock Mandatory Reporting Act is what provides transparency and certainty in the livestock markets and allows competition to thrive," Carney said. "The new provision for wholesale pork reporting will make pricing data more fully reflect the marketplace today. The pork industry has changed since the reporting act was first adopted in 1999."
©
Carney praised House Agriculture Committee members Chairman Collin Peterson, D-Minn.; Ranking Member Frank Lucas, R-Okla.;©David Scott, D-Ga., chairman of the livestock subcommittee; and Randy Neugebauer, ranking member of the livestock subcommittee,
for their leadership on the issue. In the Senate, Agriculture Committee Chairwoman Blanche Lincoln, D-Ark., and Ranking Member Saxby Chambliss, R-Ga., led the fight to reauthorise the reporting act.
©
NPPC now is urging USDA to move quickly to develop a system for the wholesale pork cuts and pork exports reporting.
©
Veterinarian Services Investment Act also approved
Also approved (15 Sept) in the House was the "Veterinarian Services Investment Act," sponsored by Rep. Adrian Smith, R-Neb., which©would direct the Secretary of Agriculture to establish a grant program to "develop, implement and sustain" veterinary service to help relieve a shortage of veterinarians, particularly large animal veterinarians. The program would ©include recruitment efforts and financial aid for veterinary students. The measure was strongly supported by NPPC, which also is backing a companion Senate bill, S. 3621.
©
©