US: New pork campaign to be unveiled to pork producers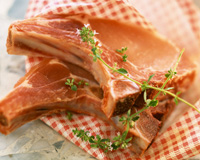 Details of a new branding initiative and consumer marketing campaign for pork will be unveiled to pork producers attending the National Pork Industry Forum in Phoenix, Ariz., on Friday. The unveiling will highlight four days of activities for members of the National Pork Board, which, through the Pork Checkoff, is charged with building consumer demand for pork.
Board members will get their first glimpse of the new campaign during their two-day business meeting Wednesday afternoon and Thursday morning. To make sure that delegates to the annual industry meeting are the first audience to see the campaign before it is introduced to the general public in April, the board's Wednesday session will be closed. The board's Thursday session will be open to the public.
Fall inlove with pork again
"The unveiling to our delegates Friday afternoon is the culmination of a year-long examination of all of our marketing efforts to give us, as pork producers, the best chance to get our consumers to fall in love with pork all over again," said Gene Nemechek, a North Carolina swine veterinarian and president of the National Pork Board. "The results of that examination that we sharing with our delegates on Friday are designed to help us meet some very ambitious marketing goals in the five-year strategic plan we approved a year ago. By 2014 we expect to achieve a 10 percent increase in real per capita domestic consumer expenditures for pork, compared to 2009," Nemechek said.
"That is going to be a difficult goal to achieve, but we, as a board are committed to setting the bar high."
Also on Wednesday, the board will meet with members of the National Pork Producers Council Board of Directors to discuss topic in which both organizations have an interest. Pork Industry Forum is the annual business meeting of both national pork organizations. This year, NPPC delegates will meet on Friday and Saturday morning and Pork Act delegates will meet in the afternoon both days.
During their Thursday morning session, National Pork Board members will take the first steps in the 2012 planning process by reviewing goals they expects to achieve in working to address the three critical issues identified in the strategic plan.
Those three critical issues are:
• Protecting the rights and ability of U.S. farmers to produce pork in a socially responsible and cost-competitive manner.
• Refreshing and repositioning pork's image to increase domestic and international consumer demand.
• Pursuing strategies to enable U.S. pork producers to remain competitive globally.
The National Pork Board has responsibility for Checkoff-funded research, promotion and consumer information projects and for communicating with pork producers and the public. Through a legislative national Pork Checkoff, pork producers invest $0.40 for each $100 value of hogs sold.
The Pork Checkoff funds national and state programs in advertising, consumer information, retail and foodservice marketing, export market promotion, production improvement, technology, swine health, pork safety and environmental management. For more info:
www.pork.org
.