US: Farmers unite to combat harmful media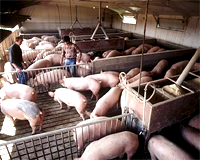 In the US farm groups have come together in alliance to combat bad publicity, which they say has endagered the farmer's ability to produce food.
The members of the coalition have expressed concerns regarding the impact videos showing the mistreatment of livestock are having on consumers' and about the effect of groups not in favour of biotech crops.
Twitter and Facebook to play part in new alliance
Twitter and Facebook social media networks may play a role in the newly formed group, however, the Humane Society of the United States has stated that making use of social networks to defend practices which most people find indefensible may not be a good way of going about the group's strategy.
The Coalition
U.S. Farmers & Ranchers Alliance represents more than 20 of the leading farmer- and rancher-led agricultural organizations. These organizations have joined together to fund programs that bolster the image of agriculture and enhance public trust in food supply.

The U.S. Farmers and Ranchers Alliance (
www.usfraonline.org/
) consists of groups:
– American Egg Board (AEB)
– American Farm Bureau Federation (AFBF)
– American National CattleWomen (ANCW)
– American Sheep Industry (ASI)
– American Soybean Association (ASA)
– American Sugar Alliance
– Beef Checkoff (CBB)
– Federation of State Beef Councils (FSBC)
– National Association of Wheat Growers (NAWG)
– National Cattlemen's Beef Association (NCBA)
– National Cotton Council (NCC)
– National Corn Growers Association (NCGA)
– National Milk Producers Federation (NMPF)
– National Pork Board (NPB)
– National Pork Producers Council (NPPC)
– Southern Peanut Farmers Federation (SPFF)
– U.S. Poultry and Egg Association (USPOULTRY)
– U.S. Grains Council (USGC)
– U.S.A. Rice Federation
– United Egg Producers (UEP)
– United Fresh Produce Association (United Fresh)
– United Soybean Board (USB)
– U.S. Soybean Federation (USSF)
– Western Growers (WGA)