US: Farmers and ranchers back house spending bill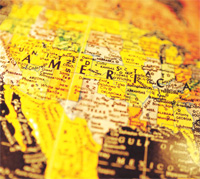 The National Cattlemen's Beef Association (NCBA), the National Pork Producers Council (NPPC) and the National Turkey Federation (NTF) praised House lawmakers for including language in an agriculture funding bill that would prevent the U.S. Department of Agriculture (USDA) from implementing its proposed regulation on livestock and poultry marketing.
The House Appropriations Committee voted to approve legislation that funds USDA, the Food and Drug Administration and related agencies for fiscal year 2012, which begins Oct. 1, but denies money for USDA's Grain Inspection, Packers and Stockyards Administration (GIPSA) to promulgate the proposed livestock and marketing regulation.
NCBA President Bill Donald, a Melville, Mont. rancher, said the legislation will prevent government intervention into the private marketplace.
"This is the first step in preventing an unprecedented government invasion into the private marketplace. Big government has invaded banking, healthcare and more. The last thing we need is the federal government setting up shop on cattle ranches throughout the country," said Donald. "The marketplace works well without government intrusion and this legislation is proof that many in Congress feel the same way."
John Burkel, NTF's secretary-treasurer and a turkey farmer from Badger, Minn., said the GIPSA rule will result in job losses and negatively impact a variety of farmers, including limiting their ability to enter into marketing agreements. The provision affects all farmers and ranchers.
"The more than 1,000 family farmers who raise turkeys in this country rely on production and marketing contracts to make a living. As one of those farmers, I commend the House Appropriations Committee for putting the brakes on this rule," said Burkel. "If the final rule were implemented, it could result in a fundamental change in the way turkeys are raised in this country, a change that I don't think would benefit farmers. This rule is so flawed it can't be fixed, and Congress is right to try and scrap this rule, insisting that GIPSA go back to the specific provisions agreed to in the 2008 Farm Bill."
Along with government intrusion into private business, the organizations also criticized the rulemaking process. USDA initially allowed just 60 days for public comments to be submitted and did not conduct an economic analysis of the rule. The agency also issued a "clarifying" document on the regulation in the middle of the comment period. While it subsequently agreed to perform a cost-benefit analysis, USDA Secretary Tom Vilsack has denied requests to open the analysis to public comments despite a bipartisan letter from 147 members of Congress.
"The Obama administration said it would be open and transparent, but on this rule, USDA has not been," said NPPC President Doug Wolf, a pork producer from Lancaster, Wis. "The language in the agriculture appropriations bill will give livestock and poultry producers a much-needed timeout on the GIPSA rule and prompt the agency to write a regulation consistent with what Congress asked it to do and to adhere to the law in writing a new rule."