US Fair Oaks Farms starts pig adventure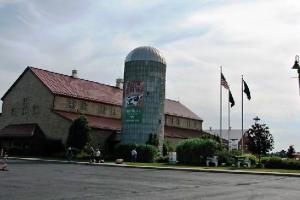 After eight years since opening the farm gates to the public, Fair Oaks Farms of Indiana, USA officially broke ground for Legacy Farms – the Fair Oaks Pig Adventure.
Malcolm DeKryger, vice president of Belstra Milling said that this was a great opportunity to educate the consumer about the swine industry.
"The opportunity to show people daily, without any obstructions is a great thing," DeKryger said. "From the time when pig farmers started putting buildings with roofs and side walls over their pigs it left people wondering what goes on inside the walls." DeKryger says this facility will take down those walls – and let the world see what they are doing.
The roughly US$15 million facility will include an educational/touring component that will be operated by Fair Oaks Farms and a state of the art 2,700 sow gestation and farrowing facility that will be suitable for touring that will built and owned by Belstra Milling.
Legacy Farms – the Fair Oaks Pig Adventure is set to open to the public in early summer of 2013.
For more information go to Fair Oaks Farms
Source: Brownfield